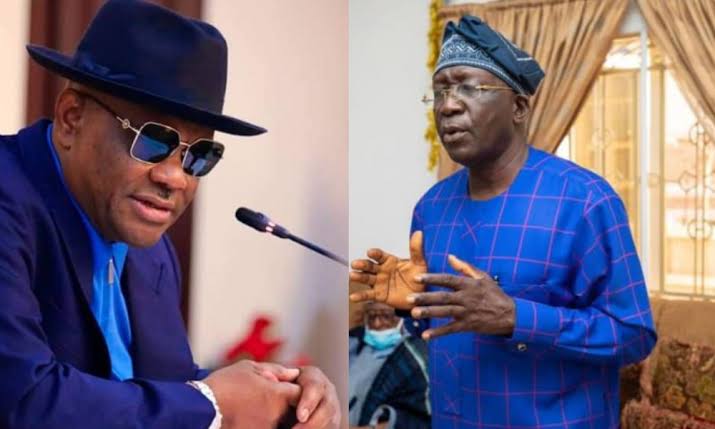 Basking in the euphoria of the vote of confidence passed on him by the National Executive Committee (NEC) of the party, National Chairman of the Peoples Democratic Party (PDP), Dr. Iyorchia Ayu, has visited the new acting Board of Trustee (BoT) Chairman Senator Adolphus Wabara.

Ayu, who was in company of other National Working Committee (NWC) members, pleaded with the former senate president to use his diplomatic skill to beg Governor Nyesom Wike and other Governors and aggrieved members of the party to sheath their sword.

Ayu, who described the new BoT Chairman as an elder statesman of immense experience, added that the PDP needs his diplomatic skill to wade through its crisis.

He, therefore, implored the new BoT chairman to use his diplomatic experience by reaching out to Wike and all aggrieved party members with a view to presenting a united front against the All Progressives Congress (APC) during the election.

Wabara emerged as the acting Chairman of BoT at the NEC meeting on Thursday, following the resignation of Senator Walid Jibrin.

Ayu also notified Wabara that the leadership of the party had agreed to travel to Port Harcourt early next week to meet with the Rivers State Governor for what he called "full reconciliation".

He however added that because of other preplanned engagements, the Deputy Chairman (North), Amb. Iliya Damagun, will be leading other members of the NWC on the trip as he would not be available.

Ayu also thanked Wabara for the Vote of Confidence passed on the party leadership by the BoT and the National Executive Council (NEC), adding that it has affirmed the party's unity among other things.

His words: "To read the outcome of yesterday's meeting as one group being victorious over another will be erroneous. We are all winners.

"My understanding is that the party wants unity. Thankfully you can play the role of a unifier even better with your immense preparation as a diplomat, former Member House Of Representatives, former senator and ex-Senate President who had worked with this party for a long period of time.

"I am calling on you to lead the effort in reaching out to all our aggrieved members. You have the full support of myself, the candidate and the whole NWC to reach out to Governor Wike, all the governors and any person who is aggrieved, and appeal to them, plead with them to come back and let's work together in the PDP family."



Meanwhile, Governor Wike has replied the former chairman of the PDP, Uche Secondus, saying that 20 votes of confidence on cannot save him from collapse.

He spoke on Saturday when he received over 90 defectors from various political parties into the PDP in Port Harcourt, Rivers State.

He said he was watching and listening when he saw Secondus rejoicing that a vote of confidence has kept Ayu as the PDP's national chairman.

"They said Secudus was dancing, celebrating that NEC gave their person a vote of confidence. He forgot history," he said.

Wike said the same National Executive Council (NEC) through Aliyu Babangida moved a motion for vote of confidence on Secondus, supported by Ndudi Elumelu, but said despite that Secondus still left the office.

He said he and his team did not fight and go back, saying "if you like you can have as many as 20 votes of confidence, it is not my business. My business and my team is to make sure the right thing is done."

"And the right thing must be done, whether today or tomorrow. So let nobody worry him or herself. If you are dancing, come home and dance. Come and mobilise for the person you think will win the election."

Wike said he and his team were on ground and waiting for Secondus to play his game, saying that this time around, there is not more in this game and in the state.

"We have stopped all these 419 people. Enough is enough. You people should go home and rest. We know we are already waiting for the day set by INEC for them to blow the whistle.

"When they blow the whistle, we will know those who are in charge of Rivers State and those who are mere visitors to the state," he declared.