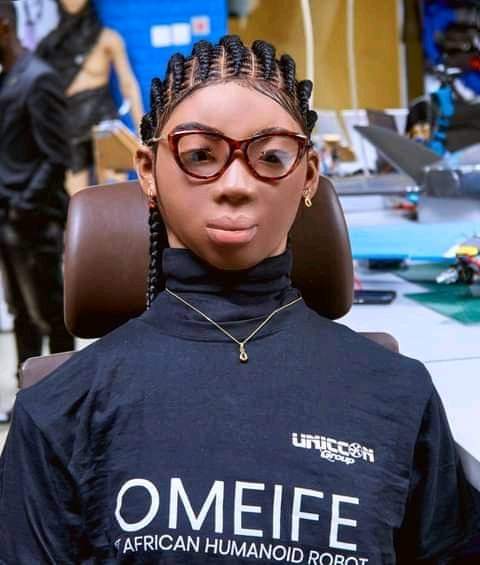 Omeife, a 6-foot-tall multilingual robot that resembles a human, will be unveiled by Nigerian technology startup Uniccon group.

Omeife, the first African humanoid to be nearly human-like and skilled in language, movement, navigation, and behavioural intelligence using AI and computer vision capabilities, will be unveiled on Friday in Abuja.

It is a flexible and helpful robot that has been programmed to have a thorough awareness of African cultural norms and behavioural styles.

Omeife has the ability to speak 8 different languages including Yoruba, Hausa, Igbo, French, Arabic, Kiswahili, Pidgin, Wazobia Afrikaans and the English language.

Isa Pantami, Nigeria's Minister of Communications and Digital Economy, introduced Omeife for the first time at GITEX in Dubai while complimenting the Uniccon Group's dedication to playing a significant role in encouraging innovation in Africa.

Pantami said Nigeria is providing an enabling environment to enhance digital innovation and an entrepreneurship ecosystem in the country.

According to the Minister, the Nigeria Startup Act will boost the potential of the Nigerian youth in the digital economy to create jobs.

He added that enormous efforts were invested into making the bill a reality, saying "the signing of the Nigeria Startup Act as principal legislation is a major achievement that will significantly enhance the innovation and entrepreneurship ecosystem in Nigeria

Speaking on the Omeife project, the CEO Uniccon Group of Companies Mr Chucks Ekwuene , aid Africa has been recognised for its contribution to the global tech ecosystem.

He said "through Omeife and our projects we are happy to play a part in helping businesses and people all over Africa to achieve their fullest potential by providing access to the most innovative technologies for efficiency.

As Africa's first humanoid robot is unveiled in Nigeria, the event titled "The Future of Artificial Intelligence in the African Tech Ecosystem" will bring together tech leaders, the diplomatic community, and the government to map out the future of tech in Nigeria. This will further raise the bar for technological advancements in the nation's tech industry.