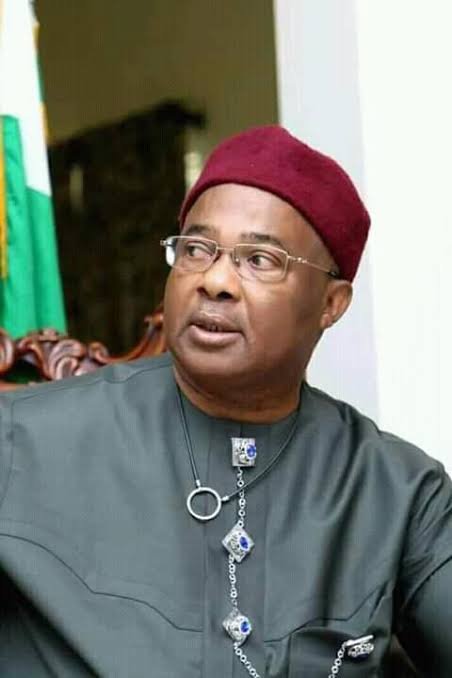 The General Overseer of the King of Kings Deliverance Ministry, Ebonyi State, Prophet Emmanuel Chukwudi has stated that Governor Hope Uzodinma of Imo State has been sacked spiritually by God.
He told our correspondent in an online interview that due to arrogance and refusal to seek the face of God, God is showing Uzodinma thr way out of Imo State Government House.
This same prophet was responsible for a March 2019 prophecy where he said that Uzodinma will emerge Governor, against all odds (SEE the link https://junglejournalist.wordpress.com/2019/03/07/guber-polls-abia-akwa-ibom-may-fall-to-opposion-unless-popular-ebonyi-prophet/.
Again on August 22,2020, the prophet had told our reporter that since Uzodinma won elections, he has turned his back on God. He said in an interview (link below – https://junglejournalist.wordpress.com/2020/08/22/i-fear-the-calamity-god-showed-me-coming-to-hope-uzodinma-and-his-govt-ebonyi-prophet-cries-out/)
that since gaining power, Hope had turned his back on God. 'A great calamity is about to befall him.
Here, he is expressing concern that Uzodinma will be removed from office.
Hear him "March 7, 2019 was the first time I gave a prophecy that Hope Uzodinma will emerge Governor. I was the one who also prophesied in August 2020 that a calamity is about to unfold in the government of Hope Uzodinma, but typical of politicians, they don't take things serious.
When God gives them power, they think that with the power, with money, they can do whatever, without knowing that what a man of God sees is beyond them. As a matter of fact, I do not see him as the governor of Imo State anymore. He has lost the Imo State seat of power.
He needs to seek the face of God now, because more mayhem, more calamity is coming his way.
He needs to seek the fce of God. If he continues in this his arrogant, I don't care attitude, more problems are coming his way.
I don't see him in the seat of governance anymore".
Prophet Chukwudi has made a series of prophetic utterances, many of which came true, including emergence of Goodluck Jonathan, Buhari and Donald Trump as presidents, and emergence of numerous state governors to power.
He had also prophesied that Nnamdi Kanu would be jailed, and also, prophesied when he will be freed. The same prophet had also predicted that Nnamdi Kanu and IPOB will be attacked by Nigerian forces in 2017, and many killed.
Prophet Chukwudi's contact +234 703 750 3690