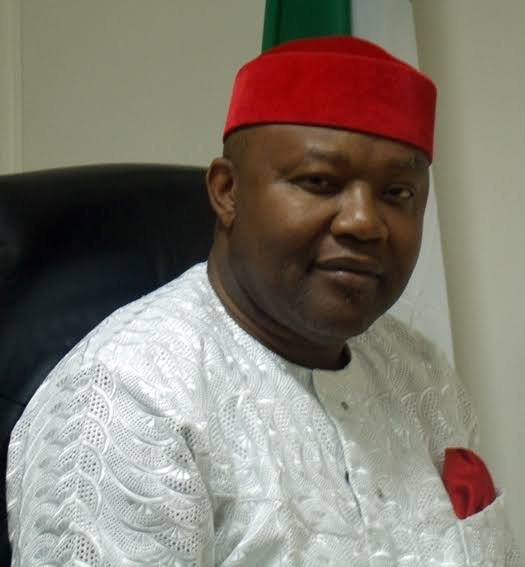 Nze Akachukwu Nwankpo, a former aide to the former president, Goodluck Jonathan speaks about the upcoming elections in Anambra State, and the strategy his party is adopting to win.

His party, the African Democratic Congress, ADC is hinging its campaign promises on what it called the "Umunna System."

He also spoke on the incarceration of the leader of the Independent People of Biafra, IPOB, Mazi Nnamdi Kanu and pleaded with the Federal government to dialogue with, as well as release him on bail.
Here are excerpts of the interview with Nwankpo, who spoke on the upcoming election and the strategy his party is adopting to win:


"I want to use this opportunity to call for the release of Mazi Nnamdi Kanu from detention. I don't know why they are still keeping him. They should release Nnamdi Kanu so that we can have our election peacefully, our people are not happy that they are still keeping him.

"I don't think there is anything wrong in granting him bail, they should grant him bail and continue the trial, allow him to go with a good surety and be sure to see him in court on the next adjourned date.

"It is not a big deal to allow him a breath of fresh air so that we can go into this election without the palpable fear that is in the air," he said.

On the Umunna revolution

"As I speak with you about 1.6 million people have been captured for this which in our view, will be beneficial to the people.

"This concept will also act as the panacea for the growing insecurity in our land because governance touches every fabric of the society.

"If we can reduce misery to five per cent with the Umunna Revolution in one year, rest assured that crime will also reduce by the same margin.

"While people say devolve power to the states or regions, ADC in Anambra is saying devolve governance to Umunna.

"We are optimistic that by the time it begins to yield positive results in Anambra State, a lot more states will be forced to replicate this model in their various states and beyond."

The strength of ADC

"With regards to my party and the big parties in Anambra State, this election is a fight between the people and their oppressors. APC, APGA and PDP have mishandled Anambra State for over 20 years. They left us with a hand full of dust. For me, ADC is the people's party. What we have done is not to pretend that we have a large political structure that we can use to combat oppressors.

"What we have done is to study the Anambra society and understand the most important assets our forefathers had given us in the management of the public space called the Umunna System. We have attached our message and the liberation desire of our people around an existing institution called the Umunna System.

"The system would rise to confront the people and parties that are lawless, reckless and have no regard for Anambra people. So it's not a party thing, it's a people versus the oppressors."

The sit-at-home and insecurity threat

"The sit-at-home issue is civil disobedience. It's a process that young people for the past 10 years have been saying they want their voices heard. We have witnessed the organization grow from being a pressure group to a referendum group. Moments in history, their members were cut down. We experienced the Aba issue when these people are not enjoying the kind of strategy the people are fighting for. They have now matured into a system of civil disobedience. I have confidence that the people behind this process are not people that do not understand that at such a critical period, they will not lose sight.

"It's easier for them to lose control of the space if they do not allow the democratic process to exist. We would continue to push forward because once they see that our people have the responsibility of controlling the government so that what they are complaining about would have been seen to have been solved. They are young people who believe in our Umunna System. They are young people who understand our Umunna is the strongest system of democracy we have so they can rise with us.

Message to the electorate

"Our political parties have been taken over by money lords. These rich men come to Anambra State, use their wealth to corrupt the people, confuse them and dump one fellow who runs our lives the way he wants for four years. They have finished decimating society and the instrument we use. They are destroying their parties and breaking the law. It's not an issue of exploiting their weaknesses, it's an issue of institutionalisation. What we have to do is to continue to convince our people that these people who have dis-empowered them would continue to make them not have confidence in the laws of our lands at their weakest points.

"It's time for them to wake up and take laws back to themselves. It's a game of getting our people to see they are not as powerless as they think. They need to get up and confront these people. For 22 years, they wasted N6.5 trillion, they have thrown dust at the people, their recklessness has overtaken them."

That the ADC governor will do differently

"The most important thing I bring is the control of governance. I come with 15 years of standing in public service. I went from local government to state government to regional government and then to the presidency. Those 15 years were years of blameless service, of zero corruption, of doing the right thing, of understanding that when you consume what belongs to everybody, you destroy yourself.

"What I bring is a willingness to submit this government to transparency, a willingness to let the people take charge of the government and take the government to accountability.

"I promise a government that will abide by the rules of law. I promise an Assembly that would be financially independent, and a civil service that will be professional and autonomous. I promise that we would do local government elections instantly which will produce people who can be recalled if they fail to perform. What I bring is a willingness to let the rule of law stand. Anambra is awash with talents but these reckless people have disregarded society.