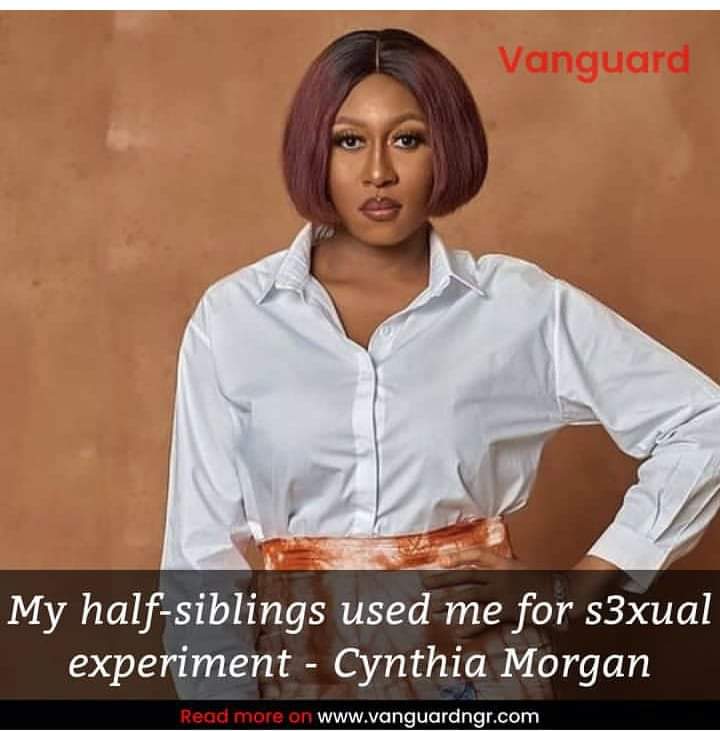 Nigerian singer, Cynthia Morgan, has revealed that her half-siblings used her for s3xual experiment. She also demanded a DNA test to confirm her biological dad.
The singer made the revelations on her Instagram story on Monday, expressing doubts about her paternity due to the way she had been treated at home.
Cynthia claimed that when she was 14 years old, her half-siblings began using her for s3xual experiment. They allegedly stopped after she told her mother, but started to bullying her for telling.
She further bemoaned her father's attitude of entitlement, saying that only a "fraudulent father" would instruct his kids to "take care" of him before he prayed for them.
She wrote, "I was 14 when I lost my virginity in my father's house because my half-sister and half-brother decided to be using me for s3xual experiment.
"This sh#t went on for months till I was able to tell my mum and (they) went on to start bulling me in school and telling their friends not to befriend me and always pick on me so they would beat me.
"I went through all of this as a teen, now it's their father's turn.
"We gats(have to) do this DNA test. There will be no peace for the wicked.
"And mind you all, this would have been a thing of the past, if this man didn't come back into my life in 2016 to finish what he and his children started.
"My supposed father's favourite phrase is 'you have to take care of your father o, you have to take care of your father o. So he can always pray for you.
"Bro, I don't have and btw (by the way) I don't even owe you a WAEC certificate.
"And if my money is equal to your prayers then you're a fraudulent father.
"I always knew the part of him being a fraud though. Reason I am finally asking for a DNA."