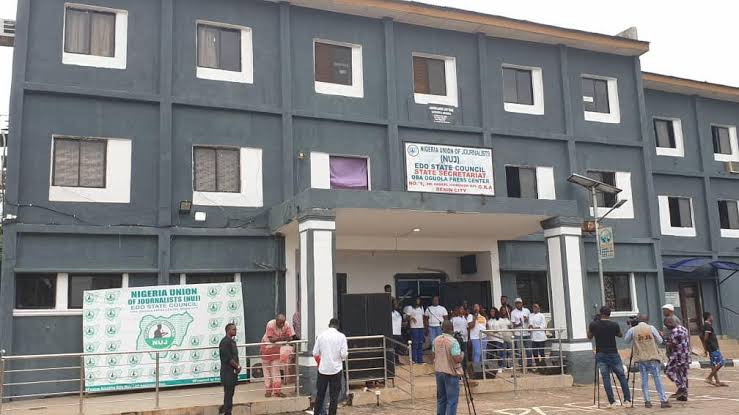 Frontline human rights defender and Labour Party leader in Edo State, Chief Dr Patrick Osagie Eholor has expressed worry over rumours that Governor Godwin Obaseki plans to demolish the Benin Press Centre of the Nigerian Union of Journalists.

The Centre, which is located along Reservation Road, has been in thenews for sometime now, with rumours flying around that the governor intends to perform and act of 'land-grabbing' on it, and convert it for personal purposes.

Although the governor denied it, Eholor in an interview with Jungle-Journalist.Com says based on previous experiences on the actions of the Governor, he wants being sincere.

Dr Eholor said "Godwin Obaseki is a chameleon, you know a chameleon never changes. You also know that his deputy Philip Shaibu is a very deceitful young man who has the atom of betrayal in his blood. I remember when the issue of Central Hospital came up and how we raised an alarm that Obaseki was going to demolish the place and convert it for personal use, Shaiubu denied for Obaseki and claimed that it wasn't true.

"But two to three months later, we have found out that the two of them are pathological liars.

"So when I heard he wants to destroy NUJ Press Centre and convert it to personal use, I spoke to some press men, who are my friends. I am a very good friend of the press and I am also a publisher. They told me in confidence that its true.

"Obaseki has this notion to usurp power since the House of Assembly is not constituted. He is a civilian General, a dictator and nobody controls him, he is an outlaw. I believe he has a motive to take over the NUJ building. That building and its lands was given to journalists by Samuel Osaigbovo Ogbemudia.

"But we have so many people who have taken oath with Godwin Obaseki, who are scared of telling him the truth. Most of them are from the era of 4 plus 4 torgba. Those who rallied round him in the first term, he disappointed all of them – gave them high taxation, destroyed their property. He is an outlaw.

"When government go out and destroy people's property because they were seen as illegal, it means there was no proper foundation by the government. If the Ministry of Lands and Survey were doing their jobs diligently, making sure their is enough information to the people, and making sure nobody builds without government approval, there won't be illegal buildings. So I think his administration is disfunctional.

"So Obaseki and his deputy are chronic liars, I didn't believe him when he lied about Central Hospital, and I don't believe he is telling the truth now, and won't believe him in the future.

"There is nothing you can believe about Obaseki," he stated.