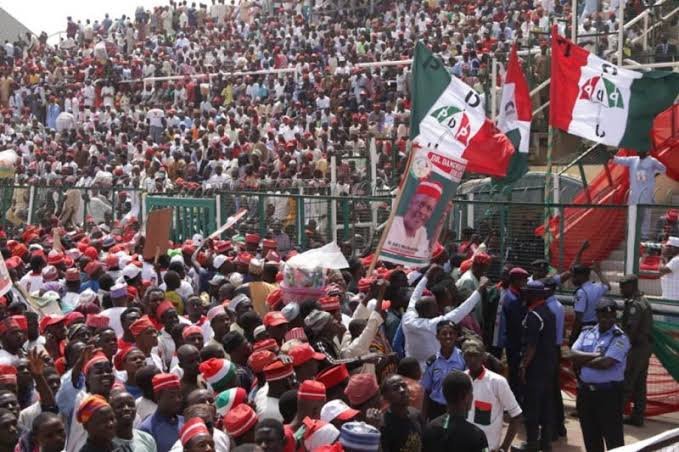 As the PDP prepares for her National elective Convention and Anambra State governorship election slated for 31th October and 6th November, 2021 respectively, the Coalition organ of this great party, PDP Coalition is strongly encouraging all beloved party family members to continue chanting the songs of victory as light is being seen shinning in the tunnel's end.
As events unfold and situations gets gets tougher,the closer the victory. We use this opportunity to strengthen the hope of People ' s Democratic Party governorship flag bearer,Mr.Val Ozigbo to remain strong, connected,firm and energized with the conviction that the greater population of Anambra people are standing by him.
Anambra wants to test a fresh hand whose antecedents would work to salvage and transform the State from darkness to light; Ndi Anambra wants a leadership built and founded on fairness,viable economic prosperity and protection of lives and properties.People 's Democratic Party Coalition in the interest of advancement and social justice reiterates that Anambra people should not be dissuaded or cowed by the current happenings in the State and fail to come out em mass to vote their new leader of choice ready to move the State forward when elected and inaugurated. day.
There is nothing wrong in coming out to exercise one s franchise but one must conduct oneself in lines with the general orderliness provided by the law of the land as the people are cautioned to eschew violence and embrace peace.
At the same time,we sue for calmness in all nooks and crannies of the State as instigation of crisis and killings never lift any society higher rather it would stoke the fire of polluted system,fear,under development and wickedness.We must all know that political leadership is acquired through sensitized campaign education, perceivable/ remarkable achievements of the government in power and the ability to convince the electorate on your party manifestos.
It is never achieved through inter/intra party mudslinging and high handedness.
Anambra has not been known as a place of warfare in times like this but a city blessed with intelligent men and women of repute,industriousness and commitment to greater possessions of healthy economic opportunities.
In conclusion, PDP is blessed with a intellectually inclined thinkers who know how best to fairly contest power in lines with the laid down procedures and it behoves the party to gird her lions properly for the election where surely by God s grace ,victory will be announced in her favour. That is what political wisdom can do for a party with good political insight.
Chief Dr.Emeka Kalu.
National Coordinator, PDP Coalition.