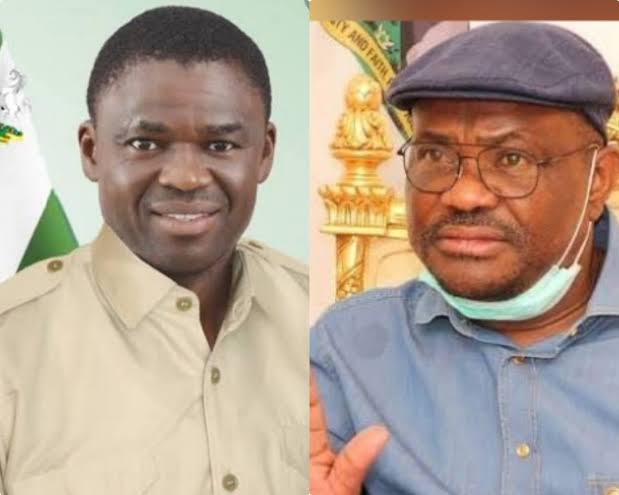 Governor Nyesom Wike of Rivers State has offered a scathing rebuttal to threats issued by the Deputy Governor of Edo State, Philip Shaibu, over the crisis in the Edo State chapter of the Peoples Democratic Party, PDP.
The Edo PDP is divided into two factions between decampees from the All Progressives Congress (APC) led by Governor Godwin Obaseki and foundational members of the party led by Dan Orbih.
But at a Thursday rally staged by Obaseki to welcome newly-elected PDP National Chairman, Iyorchia Ayu, to Edo State, Philip Shaibu allegedly repeated a threat he issued at an earlier caucus meeting that unless the national organ of the party facilitates a 'harmonization' process which would see new members including Shaibu himself, have major grip on the party, PDP would risk losing their membership.
Reacting to the deputy governor at the weekend, Rivers State Governor, Nyesom Wike, an ally of Dan Orbih, described Shaibu's comments as disappointing and unguarded.
Wike also expressed dismay at the political actions of Obaseki and the deputy governor barely two years after the party rescued them from a humiliating defeat, Bloomshire Nigeria reports.
Wike, who particularly took aim at Shaibu, wondered how "an ordinary Deputy Governor" who lost his local government during the 2020 governorship election could threaten a party like PDP.
He said: "This the same Deputy Governor (and his boss) that they were kneeling down for us to give them the umbrella. Today he has the effrontery to threaten PDP. Such a shame."
"These are the same people when they were denied ticket under APC, they were running helter-skelter, begging everybody to give them umbrella and we gave them umbrella; we went and made sure that they won that election, today that Deputy Governor is ranting."
"A Deputy Governor will come out on national television to tell PDP there are alternatives. I have written to the National Chairman of the party, if they do not constitute a disciplinary committee against the Deputy Governor, I will invoke sections of the party and ensure that they must discipline that Deputy Governor.
"This is the same person who lost his local government during the election. A Deputy Governor wearing khaki, look at him…
"This is the first time I will see a Deputy Governor come out on television to threaten the party; who is his father? Now that he has started the trouble, let him wait. We will make sure he will never have rest," he vowed.