On December 26th, 2022, Lieutenant P.P Johnson was abducted by unknown gunmen in her community of Ihube. and according to reports, taken to a forest bordering Enugu State and Ihube in Okigwe LGA Imo State.

The abductors in a viral video had threatened to behead her for being an officer of the Nigerian Army and killing her brothers and sisters who were genuinely fighting for the actualization of Biafra

"Lt. Johnson was just conferred with the rank of Lieutenant in the Nigerian Army. She passed out on December 17 after being commissioned from the Direct Short Service Course," a military source said.

"She was kidnapped at her home in Ihube. She travelled home for the Yuletide celebration."

On 29th December, a fake report had been circulated, claiming that she had been rescued, but unfortunately it was a lie, as the Army later came up with a Press Statement clarifying that the young officer has still not been found.

Up till today, no one knows whether she is still alive or dead.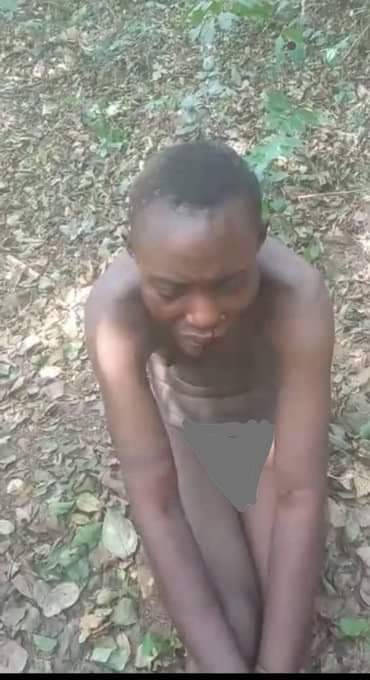 However, Mr Charles Awuzie on Facebook, says her family has thrown more light on the matter. Here is what he said:

She has not still been found..
BUT HERE IS THE WHOLE STORY….

Last night, her family told me the whole story… They had contacted me to seek for technical advice with regards to tracking devices.

The soldier's full name is Phoebe Pleasant Johnson – Lt PP Johnson. She is from Isiukwuato Abia State but kidnapped in her maternal village, Ihube Okigwe, Imo State.

Her family even hid the fact that she joined the military. This is because in the South East, members of ESN and UGM declared that Igbos should no longer join the Nigerian Army. So the family didn't even tell extended family members but somehow her maternal aunt who owns a beer parlour in Ihube, Okigwe got to know about it.

Some unknown gunmen allegedly drink at that aunt's beer parlour. The name of the aunt is Chinwendu. I believe that based on excitement that her niece is now a 2-star Lt in the Army, words slipped from Chinwendu's lips about PP Johnson's military achievement without considering the fact that most of her clients could be members of the unknown gunmen.

PP Johnson loved his maternal grandmother so much so when she came back to the East for Christmas, she went to visit her grandmother. She didn't even visit the grandmother in her military uniform but the unknown gun men who heard that she joined the military were waiting for her arrival.

The same night she arrived, the unknown gunmen visited her grandmother's house with bikes, beat up her grandmother and took PP JOHNSON away. Chinwendu, the beer parlour aunt, got on another bike (Okada) and followed the unknown gunmen in an effort to rescue her niece but Chinwendu too went missing.
So the family is not only searching for PP Johnson, they are also searching for Chinwendu who owns the beer parlour in Ihube Okigwe.

The fake news that PP Johnson has been rescued was spread by the group which kidnapped her in order to divert attention. PP Johnson has not been rescued and just last night, I was chatting with the family about this issue.

The Nigerian Army should invest more in intelligence.
Going to Ihube, Okigwe to burn down the city won't produce PP JOHNSON. They need intelligence to solve the puzzle and bring the evil kidnappers to justice.

The family is worried that she might have been killed and that's my worry too.

The military and police should deploy more Intelligence and forces to find PP Johnson and her destroyers.

We can't let PP Johnson to be forgotten. Those spreading the fake news of her release want her to be forgotten as soon as possible. Their intention is cover up this evil against an Igbo daughter by her Igbo brothers. But we won't fall for their manipulation.

PP Johnson's cell phone was switched off on 31st December and nobody knows if she's still alive especially bearing in mind that her abductors threatened to behead her in the video they shared using her WhatsApp.

Friends, I close with the words of a Revd. Father "there's a difference between fighting for Biafra and Fighting IN Biafra.". What we are witnessing is fighting/killing IN Biafra and not fighting FOR Biafra. If this doesn't end, South East will collapse.

My name is Charles Awuzie and I want peace and progress in Igbo land.

Maranatha.