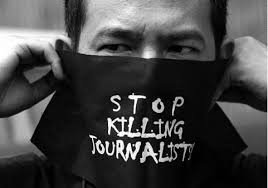 A popular journalist and online newspaper publisher in Delta state, names withheld, has decried the inability of the state police command to take action against persons that have severally threatened his life and that of his family.
He alleged that for upteent time, he has personality reported to the police of assault on his family and threat to his life, but that the police has continued to handle the matter with kid gloves.
Recently, the Police Public Relations Officer (PPRO), Delta state Command, Mr. Edafe Bright confirmed the arrest of some persons only after a tenant had reportedly killed the landlord at Ozoro in Isoko North L.G.A.
"I had written a petition, addressed to the Commissioner Of Police, Delta State Police Command since 28th May, 2021 titled: S. O. S. THREAT TO THE LIVES OF MY FAMILY BY UDOKA RAMSEY NKWOBOKO (m) and ENEJETA CYRIL AZINO (m) but the policemen I encountered discouraged me that it will cost me much money to process and the officers turned it down, unknown to me that they just wanted to fleece me off some money", the journalist claimed.
Worried about police proactiveness, the journalist said that, "On Sunday 22nd August 2021, Ramsey and one of his brothers, Victor who boasts of having over 100 boys in Asaba that could unleash terror on anyone, held me and my family hostage for several hours. They vowed to eliminate me and have chased my children away from the house, saying they will also chace me away.
"I had to call the Police Public Relations Officer (PPRO), Mr. Edafe Bright who directed that I should report to the nearest police station, having explained to him that I had earlier done same but without action. Recently we hear gun shots at nights and banging at the main gate to the compound".
He further explained that earlier, on the "19th of June, 2021, they Ramsey and his siblings destroyed the main gate of my house, it took the efforts of a Reverend Father and neighbors. As all calls made to the police were summarily ignored.
Unfortunately, the same police who treated my claims with ignominy invited me the next day over report against me.
On the 19th of June, 2021, a supposed lawyer, Ebi Nag with phone number: +234 805 596 7897 and email address: rialberilaw@gmail.com, a self acclaimed personal friend of UDOKA RAMSEY NKWOBOKO told me on phone that the said RAMSEY does whatever he says and nothing else. (Note calls are subject to investigation).
Part of the earlier petition, dated 28th May, 2021 reads:
"I wish to formerly make a "Save Our Soul (SOS)" appeal to the Delta State Police Command, Headquarters, Asaba over recent suspected criminal tendencies and actions by one UDOKA RAMSEY NKWOBOKO (m) and ENEJETA CYRIL AZINO (m).
"The duo who are illegal occupants in the building have severally boasted and claimed to be architects/mercenaries at various crisis in Irri and Ubulu-Uku in Isoko South and Aniocha South local government Areas respectively.
They have vowed to unleash terror on me and my household.
Despite their public pretences, I have personally as Landlord who heeds the call by the Nigeria Police for citizens to be vigilant about people living with them and as well report suspicious behaviours to security operatives. I have been observing cynical moves by these duo who allegedly deal on illicit/illegal drugs as well as associating and inviting hoodlums to the compound, an act which I have queried. I had also told them that I will officially incident complaints about their conduct to relevant authorities.
On Thursday, May 21, 2021, I and my family discovered that we were locked inside the compound. After enquiries, ENEJETA CYRIL AZINO (m), who admitted to be responsible for locking the gate brought another padlock for replacement which we refused to accept because of their very recent suspicious behaviours and keeping late nights.
We decided to replace the padlocks by ourselves, but suddenly, at about 09:47 PM (night) ENEJETA CYRIL AZINO (m) brought out a "Dagger" knife threatening to stab my wife while UDOKA RAMSEY NKWOBOKO (m) took Fuel from his generator, threatening to burn down a section of the apartment where I reside with my family, and the tenants started assaulting my wife and children until we ran into the house to call the Police and NUJ for help between 10:14 PM and 10:37 PM.
I am dutifully appealing to the Police to urgently come to the rescue of my family, as they have threatened to maim or kill my family members, should I report their nefarious activities to the Police.
Having observed their evil intentions and to save my family from attacks, I wish to call on all necessary authorities and security operatives, especially the Police Force to use it's good office to come to our rescue by helping us to evict them from the compound before they commit heinous crimes and destruction of lives and property.
I also appeal that they should be made to sign an undertaking should anything untoward happen to me and members of my family pending their exit from the compound because they have also severally boasted to attack us anywhere else by using persons who are unknown to us.
Considering the recent spate of attacks on innocent citizens, I beg that my "Save Our Soul (SOS)" appeal be urgently considered.