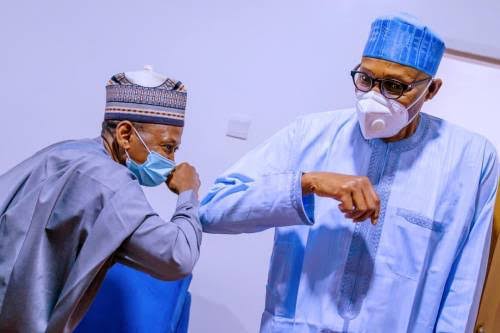 By Chief Patrick Osagie Eholor
The Accountant General of the Federation, Ahmed Idris was arrested yesterday for stealing N80 billion.
It's very disturbing that in a country where the youths are forced to stay at home because the government claims it has no money, one man who is supposed to protect the state funds stole N80 billion naira. How much is ASUU, our lecturers asking for in order to make education work in this country?
They are the ones that gave the governors, Senators, lawmakers and president the power to oppress them today. I have said severally that they are ASUU in the day, politicians in the night.
Apparently, our Professors are educated illiterates. They are the ones that made these people win elections, because they want to earn urgent money.
We had an Accountant General, who this one took over from. He was also corrupt, he was disgraced and booted out, and I thought we would have learned a lesson from that.
The Fulani think they own this country, and when you go to any government parastatal, its Fulanis that head it. These are people who, when they score 70, they pass, but when a southerner scores 220 or 240, he fails in exams. It is such a man that you made an accountant general, and now 80 billion is missing.
Unfortunately, Mr Buhari who said if we don't kill corruption, corruption will kill us, has unleashed corruption against us, to kill us all.
Less than two months ago, two govenors were given pardon after stealing billions of dollars from their states. Men who deserve life sentences were given a pat on the back for a job well done.
Let us watch this idiot who stole 80 billion that could have been for ASUU, or for infrastructure, or hospitals, or for electricity, or for water, let us watch and see the end of it.
But there is no end to this saga of Nigeria. If we have to split this country and go our separate ways, let us do that, so that some of us who want to move forward can move forward. I am not saying that South is completely free of corruption, but that of North is unprecedented. Look at Ibrahim Magu who headed EFCC and was being investigated for corruption. free, a man under investigation and suspension. Out of nowhere, someone has rewarded him for being corrupt by making him an AIG, Assistant Inspector General of Police.
Sometimes I am bewildered and I wonder where we are actually going. It's very annoying, it's very horrifying.
I have said several times that there are many Abba Kyaris in this country, the Accountant General is another Abba Kyari, and Buhari will soon reward him for corruption.