Chief Patrick Osagie Eholor has been fighting for the rights of citizens for over 30 years now. He has advocated for rights of ordinary citizens, security agencies, prisoners, underprivileged, everybody. Eholor knows no bounds in his tireless struggle for equal rights.
In this interview with media men, The Patriot, as he is fondly called, expresses anger at the physical abuse of a lawyer by Customs officers who later locked up the lawyer. He argues that men in uniform are arrogating too much powers to themselves and must be stopped by Nigerians as soon as possible.
Excerpts:
A video has surfaced on the internet showing where men of the Customs Service were beating a lawyer and later locked him up a cell. Is this right, for uniformed men to be harassing everybody else in this country?
It's high time Nigerians begin to protect themselves. Some years ago, I began to advocate for Nigerians to be allowed to carry firearms to protect themselves from the alarmingly growing insecurity. There are actually laws that permit you to carry firearms in Nigeria if you are over 18 years.
We talk about democracy, and America is the king of democracy. It is one nation that allows you to carry firearms.
The truth is that if a uniformed man with guns is aware that you the civilian may also be holding a gun, he will show you more respect when talking to you.
But that's by the way, I am now calling out Barrister Olumide Akpata who I call my brother and my friend who is the National President of the Nigerian Bar Association. My father told me when I was small that when you are roasting a bird, the chicken feels unhappy, because it also has feathers like the bird.
A lawyer has been humiliated, and we have not heard anything from lawyers, we have not even heard anything from the NBA. What's Olu Akpata doing, as the head of the NBA? Kudos to you, because you were there for me when I was arrested during the #EndSARS memorial.
Your voice was heard, the voices of citizens were heard and that's why the police released me almost immediately. A lawyer has been abused beaten, humiliated, locked up and the Customs men that carried out this heinous act are still wearing uniforms?
If you cannot defend the lawyers as their leader, quit!
I am also sending this to Vice president Yomi Osinbajo, people are rallying around you now and you want to come and become president. I think you should go with Buhari because we have not suffered this kind of human rights abuse even during the time of military rulers.
But in your time, with Buhari, the soldiers whip us, the navy will board buses and refuse to pay, the herdsmen will kill us, the fire brigade will beat us, everybody that wear uniforms and everybody that don't wear just harasss us like that. It is wrong, and this issue must be addressed properly.
Osibanjo, who is a senior advocate of Nigeria, SAN, a Vice President you see all these things and you cannot say or do anything? Because you want to become a president? You want to be mute? Forget about the aspiration. We are not voting for you. You must do something about this matter, and I hope your children watch the video.

So, if anybody decides to become Abba Kyari, then the citizens have to defend themselves against anything Abba Kyari.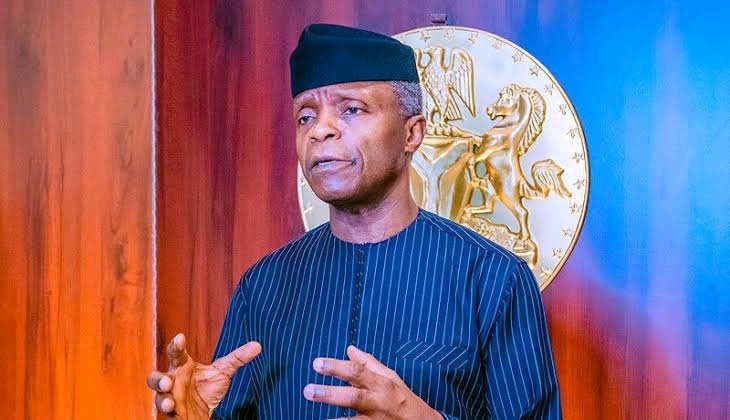 These security agents are also civilians like every other Nigerian once they remove their uniforms and other security apparatuses. What do you have to tell them on these abuses of human rights?
If you are angry with your job that you cannot respect human rights, quit. We are now ready to defend ourselves by every means necessary.

I was coming from Lagos once and Customs officers stopped me and asked for my particulars. I gave them, and they told me in their own words, that I have compromised with the Customs. Shame on you! What do you mean by compromise, and you are a customs officer?

So how dare you Customs stay in Ore and tell me I compromised with your colleagues in Lagos? Is Ore a border? Is Oluku a border? Is Ekiadolor a border?

Can you do it in the North? You bring all the northerners here to come and exploit the southerners.
But I want to tell you all that, the times are changing, and if you think you can intimidate us with guns, it won't work. We are ready to defend ourselves by every means necessary, except something is done urgently. Because people are angry. We are angry. I am not a lawyer, but I want all those lawyers who go on internet to do everything they want to do, to defend your brothers and be your brother's keeper.

What was done to that lawyer was wrong. A Customs officer has no right to do that, because the man has nothing incriminating on him.

How long are we going to keep living like this? If it's not Abba Kyari, it will be SARS, if it's not SARS, it's Customs, if it's not Customs, it's soldiers, if it's not soldiers, it's herdsmen, if it's not herdsmen, it's kidnappers, if it's not kidnappers, it's rapists, if it's not rapists, it's robbers. Come on, things must change, now or never. Arise Nigeria, let's take this fight to their doorsteps.

We must be free or we die.