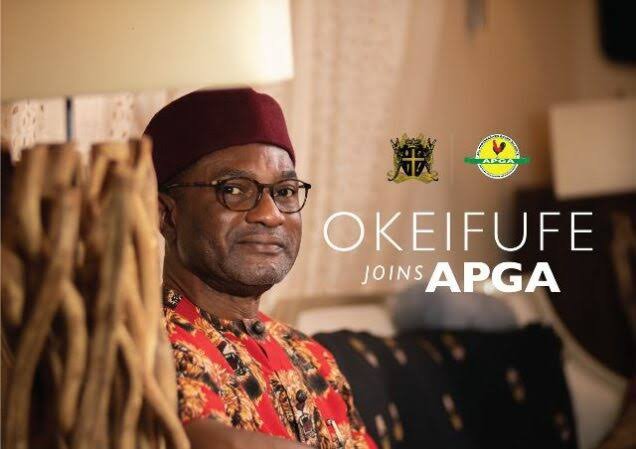 The governorship candidate of the All Progressive Grand Alliance, (APGA) in Enugu State, Mr. Frank Nweke Jnr. has
questioned those preaching continuity in the state as the 2023 general election draw nearer.

Frank Nweke made his opinion known during an interaction with members of Enugu Professional Online Publishers (EPOP) at his GRA home in the state capital.

Mr. Nweke used the medium to appreciate online publishers and acknowledged their role in opinion moulding in society.

While narrating his vision for Enugu state, Mr. Nweke criticized the ruling political party (PDP) in Enugu state as well as the APC at the federal level.

On PDP, Nweke was not satisfied with their leadership style, especially in Enugu state.

In His words "I always wonder what people mean when they begin to preach continuity to us in Enugu state. What are they continuing?"

"Is it continuity of land grabbing, poor infrastructure, potholes in the capital, and bad governance? We need to know".

"This was how one man told us nrashi in 2015 and we never asked what is nrashi? But today we might have seen the meaning. His government has nothing to offer and someone is campaigning with continuity".

"We should ask those adding Continuity to their posters to come out boldly and explain what they want to continue".

"For me, this is exactly what Enugu Professional Online Publishers (EPOP) and all media practitioners should be interrogating".

Nweke took time to review how Enugu state and Southeast by extension were underdeveloped, persecuted, and isolated by the All Progressive Congress (APC) and People's Democratic Party (PDP).

He declared that voting for anyone in PDP or APC is as good as backing impunity and bad governance in Enugu state, describing the All Progressive Grand Alliance (APGA) as one of the best options for the political revival of the southern states.

Nweke further added that if he is elected into office, he will invest hugely in the knowledge-based economy.

"If you look at the theme of my campaign, it is simply "Arise, let's build Enugu" because I realized that you need the partnership and support of the people. I will keep it simple. Sustainably resolve water crisis, clean up our city, patch the roads, open new roads where necessary".

"I will invest heavily in technology infrastructure, and my first shot will be on knowledge-based-economy where you will have youngsters who will be in Enugu and have the opportunity to work for companies all over the world using available I.T infrastructure".

He further added that he will market Enugu, and attract investors due to the peculiar nature of the state and position in the Southeast adding that with many institutions in the state; both local and foreign investors will make Enugu the first choice.

"Enugu has coal, and limestone which would be harnessed and I will be hampered on the immediate needs of the state which include water, and provision security amongst others, he added.