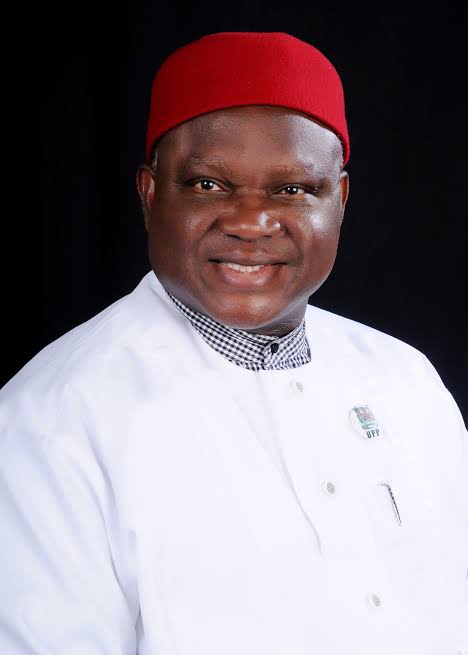 Founding Chairman of the All Progressives Grand Alliance (APGA) Chief Chekwas Okorie, on Wednesday returned to the party about 17 years after he was forced out due to internal crisis, with a pledge to assist APGA candidates across the country win their respective elections.
Chief Okorie popularly known as 'Oje Ozi Ndigbo' (messenger of the Igbo) was received into the party by the Supreme Court recognised National Chairman of APGA, Chief Edozie Njoku.
Speaking during the historic event held at his Enugu residence, Chief Okorie said "APGA has remained the only truly progressive political party in Nigeria, not only because of its name, but in the constitution with which we used in the registration of APGA.
"You will see in the objective principles of the constitution, you will also see in the manifesto of the constitution, provision for true federalism, Devolution of power and self determination of all the ethnic groups in Nigeria. These are revolutionary and progressive objectives.
"Nigeria has come to a point where the social contract of the political parties with the Nigerian people must be interrogated to know what they mean and separate it from what they say."
Speaking about his ordeals in APGA and his political journey thereafter, the Igbo leader said that they "didn't just run away when the problems started, we struggled to save the soul of the party. We were in the the court for 8 years, were were in Supreme Court three times and no court ever recognised any other person as APGA National Chairman except me.
"We tried reconciliation, there were over 20 attempts to have peace and reconcile all side but these efforts were frustrated by only one side and we were forced to leave and try our hands elsewhere and founded UPP.
"In 2012, we founded United Peoples Party, UPP, and in the same year, all our leaders in diaspora including Mazi Nnamdi Kanu, Dr. Egemba and Uche Mefor said they were tired of the political process and moved on to Radio Biafra.
"Eventually, that UPP couldn't move forward, in 2020, we decided to try our hand with the ruling party, we collapsed our structure into the All Progressives Congress, APC, that was a difficult decision to make but at the end of the day, we weren't too comfortable with the APC because having been in opposition for several years and decades, it wasn't so easy to change from the way we were made.
"There was pressure from everywhere for us to return to APGA and help rebuild the house, but I said to myself and associates that we can't return via the backdoor.
"Thus, when the Supreme Court in its wisdom corrected the error they made in October 2021 and reaffirmed Edozie Njoku as the authentic National Chairman of APGA, Njoku on May 14th, 2022, was in my house for my return to the House I built, and then after due consultations with my associates, we decided to return.
"I Chief Chekwas Okorie, with all my associates, those present here and outside, we have today, formally returned to APGA under the Chairmanship of Edozie Njoku."
He commended Chief Njoku for his peace initiative and assured he will be part of the process to bring back the members of the party.
"Njoku is part of the original vision of APGA and never left, I want to join him in that preaching of healing of wounds.
"I will join him in meeting all the important people that needs to come on board including the Governor of Anambra State, Professor Charles Chukwuma Soludo and join in the campaign to win the state for APGA so the Governor will have a conducive political atmosphere to deliver the dividends of democracy to Ndi Anambra.
"All those that have APGA Ticket will be helped to win their election.
"On the 26th of May, 2022, I formally resigned as a member of APC in my ward and deregistered as a member of APGA in my ward on the same day.
"The revolution has started!" he declared.
Speaking earlier, Chief Edozie Njoku, National Chairman of APGA said "those we started APGA will come back to be with us.
" The situation of our country is a sad one and as someone that grew up outside Nigeria, many persons want to come back to the country but they want the country to work again.
"I'm here with the NWC members of the party to see our founder Okorie and he's not happy with the state of APGA.
"I'm happy and privileged that I'm among those that are here to welcome our Founder back to the party. We need to reach out to others that are aggrieved and we need to reach out to them. Our members that were reaped off in 2019 in Imo are in pain, we need to appease them.
"This is a bad period in APGA but we're not discouraged. The lies are much and I'm having my share of the propaganda. I have been accused of forging supreme Court judgement which is laughable."
Other members of the National Working Committee that were at the event include: Hajia Hadisa Musa, the national women leader, Alhaji Mustapha Rabiu, National Welfare officer, Tony Uche, National Vice Chairman, South East, Ezenwanyi Kate Anikwe, Former National Women Leader, etc