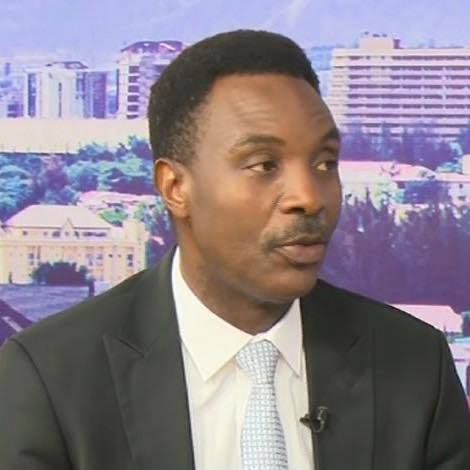 As the election year draws near amidst contending interests, the outgoing Chairman of the All Progressives Congress, (APC) in Enugu State, Dr. Ben Nwoye says he is consulting wide with a view to becoming the next governor of the state.

Chief Nwoye stated this in an exclusive interview with Nkanu Media Professionals, (NMP).

Nkanu Media Professionals is a team of professional journalists from Nkanu extraction drawn from various media outfits in Nigeria and Africa. It is an independent, non profit think tank dedicated to managing risk and building resilience to promote peace, security, and sustainable development in Enugu State.

To achieve its purpose, NMP employs a mix of policy research, strategic analysis, publishing, and convening.

The group which was inaugurated last year recognizes that a thoroughly independent institution, free from official constraints, could make a unique contribution to multilateral efforts to prevent and resolve political conflict in Enugu State.

Jungle Journalist Media crew were among those that made it to the interview session.

Excerpts:

Tell us briefly about yourself:

I'm Dr. Ben Nwoye, Chairman APC Enugu State.
I was born in Port-Harcourt, grew up in Port-harcourt, went to school there, travelled out to United States, studied psychology, criminal justice, studied journalism before in IMT, studied law, practice civil rights law.

At the time of my practice, I worked with a lawyer who is considered the best trial lawyer alive, Attorney Johny Cockrer. His famous statement is 'if you doesn't fit, you quit'.

I was once considered to be a brain behind the man, because great lawyer has other great lawyers around.

As a trained civil rights lawyer, we work on the just. We see things the way it is.
Because of that, you got to offend many people.

Our society is growing, but reverse growth. People who have higher intelligence don't recruit people of equal intelligence. They recruit People of lesser intelligence because they don't want to be matched with.
So we are growing, but the growth is reversed in nature.

Some people said you destroyed APC in Enugu State, how true is this?

Those who cannot control you would want to replace you at all cost. They can do anything to make their plans work.
They first said 'Ben will run away soon'. So the destruction is because Ben refused to run away.
They made mistake of recruiting someone of average intelligence. It's their mistake and I have told them in many meetings that you have made a mistake.
You made me a Chairman, so allow me to be a Chairman.
I am the first and only consensus Chairman of APC in the state since the party was birthed.
From the start, no one contested against me.
I responded to all the 13 lawsuits filed against me by Okey Ogbodo, Minister and others.
They simply want me to be a puppet, I can't accept.
They are only disappointed that Ben doesn't turn to what they had expected him.

What has APC achieved in Enugu State?

We gave Enugu People alternative.
We won the number one position in the country.
I was the first Chairman that prepared and delivered a president from an opposition party.
We mobilized thousands of people to welcome President Buhari at Okpara Square.

The then Governor, Barr. Sullivan Chime said let's give them Okpara Square so that they will shame themselves, but I mobilized beyond their expectation. Infact that's the biggest rally ever.

The records are there.

Under my watch, the immediate past Governor of Enugu State, Sullivan Chime joined the party, the former governor of the old Anambra State, Senator Jim Nwobodo joined the party, former President of the Nigerian Senate, Sen. Ken Nnamani joined the party.

We led a broom revolution with a coordinated membership drive across the state. This is what PDP has never done.

We heard people saying you are contesting for Governorship. Are you actually running?

I told you that I came home to serve and when we come to serve, we have ideas that things should be done this way.

I also started by telling you the things I confronted while moving round every nook and cranny of the state with the broom. I have seen their needs.

So if the issue is that I am consulting to be a Governor or to serve in any capacity, of course I'm a politician and I'm entitled to aspire.

Coming to aspiration, every human being aspires. I aspire to also be the President of this country someday.

So are you consulting?

Absolutely, I'm consulting.

If peradventure you become Governor of Enugu State, which area would you address?

"An Utopic Enugu State". You start with basic things like education.
Our education should be purposeful. We shouldn't just build universities and put people there. They are not babysitting homes for adult children.

We should make universities produce workers, produce talents that will reengineer the society.
It's not about having graduates that can raise their shoulders above 'C level', it is about having jobs for them.

Education is everything, so what we have now is 'University Adult Day Care'

Apart from education, which other sector will have a breath of fresh air should you be voted in as Governor?

We will look at healthcare.
We have everything it takes both by strategic location of the state and pre-existing infrastructure to turn things around healthcare wise.
We need people with mental capacity to connect to those around the world.

These things are not just about money.

Go to Parklane, you will cry.
My police guard was shot in my house when they wanted to kill me and we rushed him to Parklane, they refused to accept him because they didn't have bandages. This is a University Teaching Hospital.

They may have lied to us because they didn't have what it takes to admit him maybe because of the trauma, but the best trauma unit are cited in hospitals all over the world.
So we need to look at those things that makes the society good.
This idea of 'everybody should go back to agriculture' is naive.

What about Toursm? We will turn things around in that sector to attract both local and intentional investors. Go to Awgu Amusement Park, go to Nsukka, go to Ngwo, go to Akpugo in Nkanu West, go to Ugbawka in Nkanu East, you will be shocked to see the type of huge primate habitats we have there.
Fallow lands that have never been touched with a lots of majestic trees, reptiles, things you never knew you have.

There is a huge dependency on monthly allocation and it's not enough to do other things, not to talk of forming committes. Committes take allowances too.

I'm a friend of the Governor, but not his political adviser. He had his own dream when he aspired to be Enugu Governor and I believe honestly to the best of his ability, he is pursuing those dreams. Many at times your dream is also based on your output.

Do you believe in zoning?

It's not about what I believed in. Zoning is just a recommendation. Constitutionally, no one will prevent anyone from running including those who are not of Enugu origin but they are residents here. If they can muster courage and convince people to vote for them, they can become Governor of Enugu State.

Is Isiuzo Local government part of Nkanu?

We don't have an Nkanu Senatorial Zone please, so we need to come out from that idea.
The Nkanunization agenda is wrong, People should stop projecting it. It is terrible, it's discriminatory.
You can't keep playing this domineering role.
For long, I choose not to comment because of my position. Funny enough, some people are sponsoring this rubbish.

It's wrong for anyone to suppress any segment. The smallest population of people in Enugu East Senatorial Zone is Ngwo, but they belong to Enugu East zone.
At times, I saw some unwarranted attacks on Isiuzo
The fight is now between Nkanu East and Nkanu West.
When some people talk about zoning, they deviate from the discussion and resort to fighting themselves.