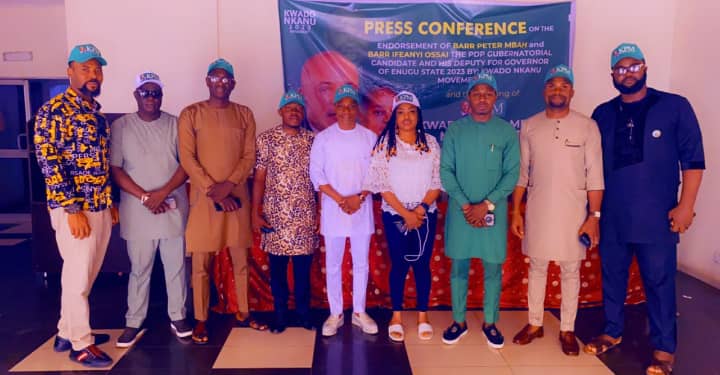 Leadership of Kwado Nkanu Movement, a political support group have announced its endorsement of the candidacy of Barrister Peter Mbah for Enugu State Governor in the coming 2023 elections.

Announcing the decision to endorse Mbah and his political party, the Peoples Democratic Party at a Press Conference in Enugu, leaders of the group led by Monday Diamond Ani revealed that the decision to endorse Barr. Peter Ndubuisi Mbah is because they have seen his evidenced leadership traits as one of Nigeria's most successful business and human resource managers.

The statement, jointly signed by the leaders further said;

"In the early season of the year 2022, I, Hon Monday Diamond Ani and some influential youths in Enugu State as well as some Nollywood actors embarked on market to market and village to village sensitization tour for the Governorship Zoning to Enugu East Senatorial Zone.

"The vision KWADO NKANU MOVEMENT which was commissioned with patriotism, determination and commitment became an accomplished mission as all the Political Parties in Enugu State zoned its Governorship Tickets to Enugu East Senatorial Zone.

"However, after a long period of indepth research, antecedents check, holistic consultations and due consideration,the Group KWADO NKANU MOVEMENT hereby endorses and adopts Barr Peter Mbah of PDP as its Governorship Candidate come 2023 Election in Enugu State.

"On this note, the Movement's name henceforth is to be known and called KWADO PETER-MBAH MOVEMENT (KPM).

"The Group whose Leadership Organogram stems round Enugu State and its Senatorial Zones, Local Government Areas, Wards and Polling Units will embark on sensitisation tour to brand and sell the image and candidature of Barr. Peter Mbah and Barr. Ifeanyi Ossai to all nooks and crannies of Enugu State, towards a victorious election.

"It is worthy to note that Barr Peter Mbah's political partnership with Barr. Ifeanyi Ossai as Deputy will further deepen the needed democracy in Enugu State come 2023.


Signed,

(1) Hon. Monday Diamond Ani.
Director General.

(2) Hon. Elvis-Obi Nwankwo.
Deputy Director General

(3) Hon. Dr. Chika Obeta.
Secretary General

4 Nwada Adaeze Isamade
State Women Leader

(5) Hon. Prince Ekene Nwanjoku.
Zonal Coordinator-Enugu West.

(6) Hon Onah Onyemaechi Joseph
Zonal Coordinator-Enugu North.

(6) Mazi Humphrey Edeh
Enugu East Zonal Coordinator

(7) Comr UchePaul Nnaji
State Youth Leader

(8) Linc Edochie
KPM Ambassador

(9) Chidinma and Chidibere Aneke
(Nollywood Twins)
KPM Ambassador.
Photos from the press conference: