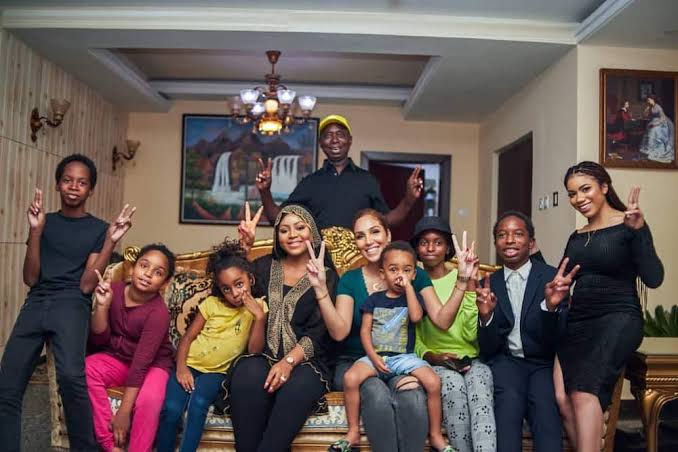 BY EMMANUEL ONWUBIKO
"I am African, not because I was born in Africa but because Africa is born in me" – Kwame Nkrumah
"A man who makes trouble for others is also making trouble for himself "- Chinua Achebe:
Prince Ned Nwoko needs no introduction in the media even to infants who have only just started to learn basic skills in reading and writing. Ned Nwoko is famous because he is both a successful maritime lawyer trained professionally in England as well as a very effective and result-oriented politician.
Ned Nwoko's personal records show that he is a man of unimpeachable integrity. His only problem is that he is wealthy and successful in a clime whereby many are so poor that they hardly find what to eat. But is he to be blamed for the mass hunger tearing through the Nigerian population? Not at all!
Lately, there have been social media debates regarding an interview he, the Delta States Igbo born politician Prince Ned Nwoko granted to British Broadcasting corporation (BBC Igbo) in which he castigated presidential primary delegates of both the Peoples Democratic Party and All Progressives Congress for not standing by the resolution of the South for Southern Presidency in 2023.
Ned Nwoko made a factually accurate statement that Igbo born delegates did not believe in the interests of the collective but rather chased after their individual pecuniary interests by going after bribes to vote for candidates from other zones other than South East.
However, some unintelligent headline casters said Prince Ned Nwoko said Igbos are selfish and not ready for the 2023 power transfer of the presidency of Nigeria to the South East thereby portraying Ned Nwoko as someone with no love for Igbo region or someone who is Igbophobic.
This is so far from the truth.
It is not true because it is inconceivable that a lawyer of over two decades standing, who is Igbo by birth, can say his ethnic nationality and her people are selfish which stands logic on its head because the stereotype of putting every member of the ethnic group into one pigeonhole of one negativity is an incurable fallacy.
When I read that sensational headline, I quickly sought to listen to the entire interview and I got to know that Prince Ned Nwoko did not dismiss Igbo people as being selfish but was particular about the set of persons he spoke about which is nothing but the truth and the whole truth. Igbo born delegates to the presidential primaries of APC and PDP sold out and betrayed the Igbo born candidates and chose persons who gave them several thousands of United State's dollars.
Secondly, there is this misperception that was spread by Governor Nyesom Wike as attributed to him in some publications online.
It was said that the Rivers State's governor upbraided Prince Ned Nwoko for saying that he (Wike) couldn't be selected by Alhaji Atiku Abubakar as running mate in the 2023 presidential election under the PDP's ticket because "Wike talks too much," whatever that means.
I listened attentively to that interview. Ned Nwoko didn't say Wike talks too much. But Ned Nwoko promoted his own State's governor as being more of a calm, loyal and self effacing side than being cantankerous then he said if he were Atiku Abubakar, he will go for Okowa rather than that 'type' of person like Wike.
Then it was reported that Wike fired back in unrestrained salvos. The Governor of Rivers State, Nyesom Wike was quoted in a section of the media as having taken a swipe at Ned Nwoko, a popular Nigerian politician and billionaire business man, married to Nollywood actress Regina Daniels over his recent comments that Atiku Abubakar dumped Wike for Governor Ifeanyi Okowa because he (Wike) is a trouble maker.
In a statement Wike was alleged to have released on Thursday, June 23, he said, "One man who has been busy marrying all the young girls in Nigeria came out and was talking nonsense about me in BBC news interview that Atiku dumped me because I am a trouble maker.
"Ned Nwoko should tell Nigerians what he has achieved ever since he joined politics other than jumping from one little girl to another. A Pedophile coming to talk to me a sitting Governor should hide his face in shame.
"I joined PDP before him, he has no political structure in PDP. I have a higher stake in PDP than he. If he's man enough let him contest for PDP Presidential primary election and watch if he will get one single vote.
"This is a man after drinking Ogogoro mixed with burukutu, he will go in search of little girls to defile. His only achievement since he joined politics is marrying different kinds of women and this is the type of person PDP Delta State gave the mandate to contest for Senatorial position in the forthcoming election. Is that how Nigeria is going to change for the better.
"Ned Nwoko should face the pyramid of wives he gathered in his house and leave Wike alone. It's obvious he no longer thinks straight like a normal human being. Tell me, how can one man marry over 6 wives and still have his brain intact."
Did Wike, a Senior lawyer actually used some of these libellous words to ascribe to Ned Nwoko who is also a senior lawyer? How is being a polygamist make someone a Pedophile and who is the underage girl that Ned Nwoko married? Should national conversations not be decent and pure rather than nosedive into mudslinging?
The publications as read above said governor Wike dismissed Prince Ned Nwoko's criticism by attempting to libel the politician by characterizing his choice of marriage as polygamist to mean that he is someone who gets attracted sexually to little girls. Whatever that means.
But if what the publications said Wike said is true, then it is actionable in law because Prince Ned Nwoko's choice of polygamy is in compliance with extant marriage Act of the federation.
Moreover, Ned Nwoko's latest wife Regina Daniel is a full grown adult and not a child.
Besides, Polygamy in Africa is permitted and there is nothing untoward in an African who decides to become a polygamist.
Being a polygamist is not and will never be the same as the crime of paedophilia. Polygamy is part of African culture and even as a practicing Roman Catholic Christian, I'm proud to defend the traditional marital practice of polygamy as some Africans do. We can't reject what our forefathers did because the White man says polygamy is against the Western orientation. We are Africans and not Europeans. This also does not approximate to compelling all Africans to adopt polygamy. Marriage is strictly by choice. We will very shortly read from a versatile scholar who did a very profound academic investigation on polygamy going forward.
As aforementioned, we encountered an academic who wrote on the theme: "The Socio-Cultural Significance of Polygamy in Africa", by name Grace Lawrence-Hart, Ph.D.
The scholar said thus: "In Africa, tradition and religion are synonymous; and the cultural values of the people are tied to their belief system (Lawrence-Hart, 2013:193). In this vein therefore, polygamy as an African institution, becomes an acceptable institution. The practice of polygamy in
Nigeria is associated with economic and social values. In most indigenous African societies, a man believes that having male children enhances his position and prominence in the community, and his name in addition remains immortalized. Thus, if the first wife bears only female children, the tendency will be to contract another marriage for the expressed purpose of raising male children (Ibeabuchi 1990:81). Polygamy is customary all over Africa but in less degree in some societies. This has some bearing on the social structures of the traditional society. In Nigeria, for instance, religion and human administration underscore the values associated with polygamy. These values are what Christian missionaries of various denominations failed to appreciate in their various encounter with the different African societies. These denominations considered it sinful to be polygamous However, there exists another school of thought who sees nothing wrong in being polygamous. The general argument of the progenitors is narrowed down to the belief that neither monogamy nor polygamy is essential to Christian salvation since it is not easy to prove from the Holy Scripture that polygamy is a sin."
This hullabaloo about polygamy is uncalled for and it is preposterous to dismiss polygamists as paedophiles which is totally unconnected.
*EMMANUEL ONWUBIKO is head of the HUMAN RIGHTS WRITERS ASSOCIATION OF NIGERIA and was NATIONAL COMMISSIONER of the NATIONAL HUMAN RIGHTS COMMISSION OF NIGERIA.