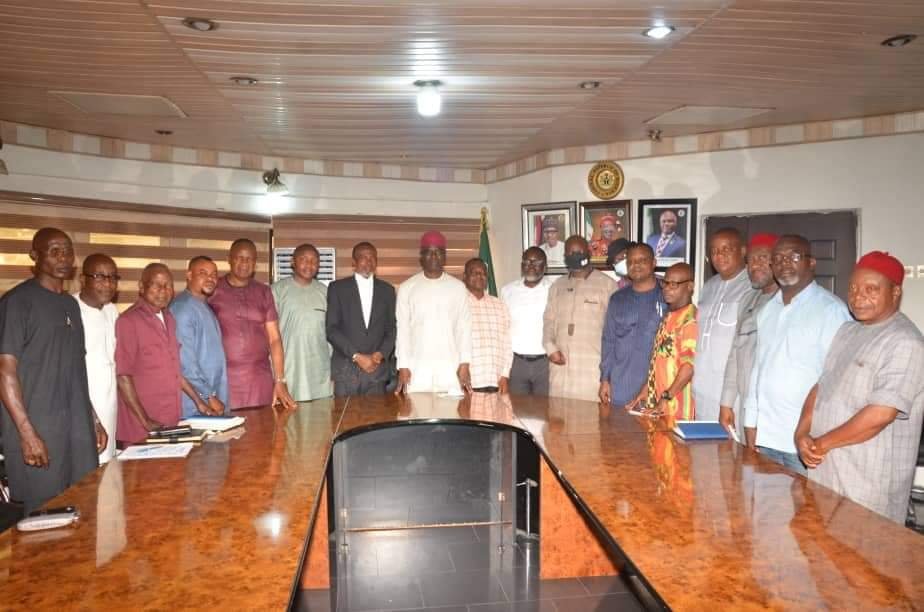 Deputy Governor of Abia State, Sir Ude Oko Chukwu says Government will only provide more amenities to communities that show commitment in protecting public facilities and projects sited in their localities.
Sir Oko Chukwu who stated this when he received a delegation of Nkporo Development Union led by their President, Chief Benjamin Ifegwu Umeri at Government House, Umuahia, stressed that the Governor Okezie Ikpeazu-led administration will continue to do its best to attract dividends of democracy to every section of the State and urged the National Executive Committee of Nkporo Development Union to take ownership of government projects and facilities in their areas by ensuring that they are not vandalized or encroached upon by anyone in order to encourage government to do more.
The Deputy Governor who assured the executive members of Government partnership in ensuring the security of lives and property in the State urged citizens to do their part by promptly reporting suspicious movements and persons to security agencies.
He expressed happiness at the construction of the Abribiba Nkporo Road which was commissioned last December and the soon to be commissioned Nkporo Cottage Hospital, and warned against blockage of drainages, destruction of facilities, and such other social vices while expressing joy in the abilities of the New Executives who are men of integrity to perform to expectations.
Earlier in his speech, the President of Nkporo Development Union, Chief Benjamin Ifegwu Umeri said they came to identify with the Deputy Governor who has been a pillar of support to them, having turned around the fortunes of Nkporo people through the attraction of many developmental projects and assured of their unalloyed support to the Dr Okezie lkpeazu-led administration.
The Commissioner for Information, Chief John Okiyi Kalu, the Deputy Chief of Staff, Office of the Deputy Governor, Sir Don Ubani, Body of Permanent Secretaries and other top government officials were present during the visit.