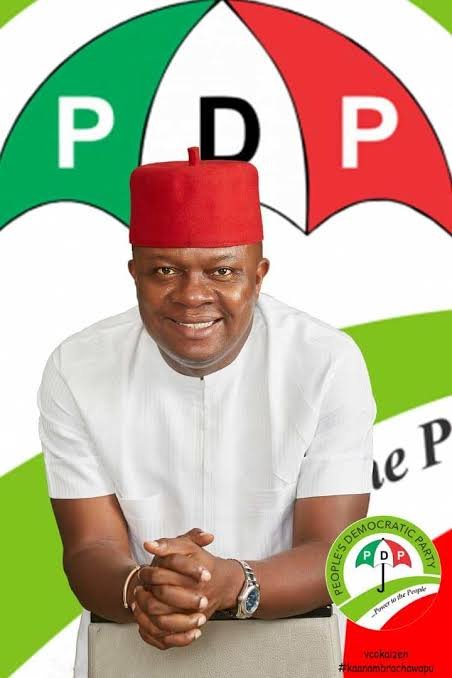 Having achieved greater portions and milestone of our party s blueprints for excellence, PDP Coalition in her discretion and commitment declares her unflinching support for the candidacy of Mr Valentine Ozigbo as the PDP flag bearer in the November 6th,2021 forthcoming Anambra State governorship election.
Our decision is founded on the basis of excellence and total allegiance to the party s philosophy built on working to provide meaningful leadership for Anambra people and Nigeria in general.
Mr.Ozigbo is a man of integrity,direction ,full of intelligence quotients needed to lead Anambra to a commanding height of excellence when enthroned . PDP Coalition s determination to work and ensure the success of the flag bearer s ambition is predicated on the fact that this forthcoming election is winnable for the party,therefore calling on all stakeholders to come out em mass and make it happen.The party management is encouraged to make actions- oriented inputs capable of bringing victory to the Party s doorstep.
It gladdens my heart seeing the stamina,bearing and charismatic qualities of PDP party stakeholders in the State professionally anointed with intellectual and political experiences that will get the party sure victory in the polls.
Through well harnessed voter education, robust campaign and wining the heart of the people, victory is guaranteed for the party. My ecstasy also reads greener each time I turn to see Senator Lilian Uche Ekwunife as the steering handler of the party s Campaign Council. She is a woman of integrity that any thing entrusted in her care always fields fruitful results. Anambra is yearning for transformations, the time is now; she is craving for economic development, voting PDP is the key and stakeholders have all it takes to actualize this possible dream come, the election day.
From zero to infinity, Ndi Anambra are solidly behind Val Ozigbo as a young blood ready to do every necessary thing within his administrative power to revitalize,prosper and elevate the State to a centre point of attraction.
It is time for power to change hands and I besiege every living souls within the votable age in the 21LGAs of the State to rise and support this credible, innovative and purpose driven personality by voting him into power as governor of Anambra State following the conduct and conclusion of the fast nearing gubernatorial election on the 6th day of November, 2021.
There is no time to waste, there is no time to go slumberland, there is no time for idle interaction. It is time for commitment and action which speaks louder than words.Together we make it happen.
PDP, Power To The People!
Chief Dr.Emeka Kalu, National Coordinator, PDP Coalition.