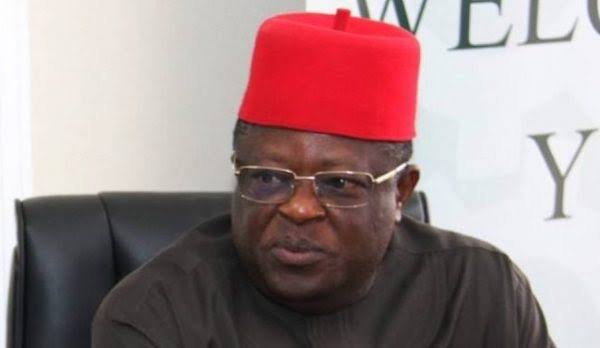 The People's Democratic Party (PDP) in Ebonyi Friday threw more light into the Enugu Appeal Court ruling on Ebonyi Governor, Dave Umahi, that upheld his defection saying the case was not rated to the one bothering on the sacking of the governor by an Abuja High Court last month.
NAN recalls that the suit was filed by Sen. Suny Ogbuoji and his running mate, Mr Mbam Ogodo, as the governorship and deputy governorship candidates of APC in the 2019 election in Ebonyi.
They urged the court to hold that Umahi, having defected to the APC, ought to vacate the office so that they would be sworn-in having come second in the election.
The PDP, therefore said it hopes to secure victory at the Appeal Court sitting in Abuja over the defection of Gov. David Umahi and his Deputy, Kelechi Igwe.
The PDP Publicity Secretary, Chika Nwoba said this in an interview with the News Agency of Nigeria (NAN) in Abakaliki on Friday.
He was reacting to the judgement of an Appeal Court sitting in Enugu, which quashed a suit challenging the defection of the governor and his deputy from PDP to APC.
"Our party, the PDP, has full confidence that it will win at the Appeal Court, Abuja.
"The matter at the Appeal Court, Enugu is different from the one at the Appeal Court, Abuja.
"Today's judgment in Enugu is between the APC governorship flag bearer in 2019 and Umahi.
"It is not the PDP and Umahi's matter.
"In our own matter, we have confidence and hope to win at the Appeal Court, Abuja," Nwoba further said.
NAN further recalls that Umahi and his deputy had in November 2020 defected from PDP, which was the platform they were elected, to the APC.
The Federal High Court in Abuja had on March 8 sacked Umahi, his deputy, and the 15 lawmakers in the state over their defection from PDP to APC.
The judge, Inyang Ekwo, ordered the governor, his deputy, and the affected 16 lawmakers to vacate their offices immediately and ordered INEC to receive names of candidates from PDP to replace Umahi and Igwe.
Ekwo held that the votes in any election in Nigeria are to political parties and not candidates.
(NAN)