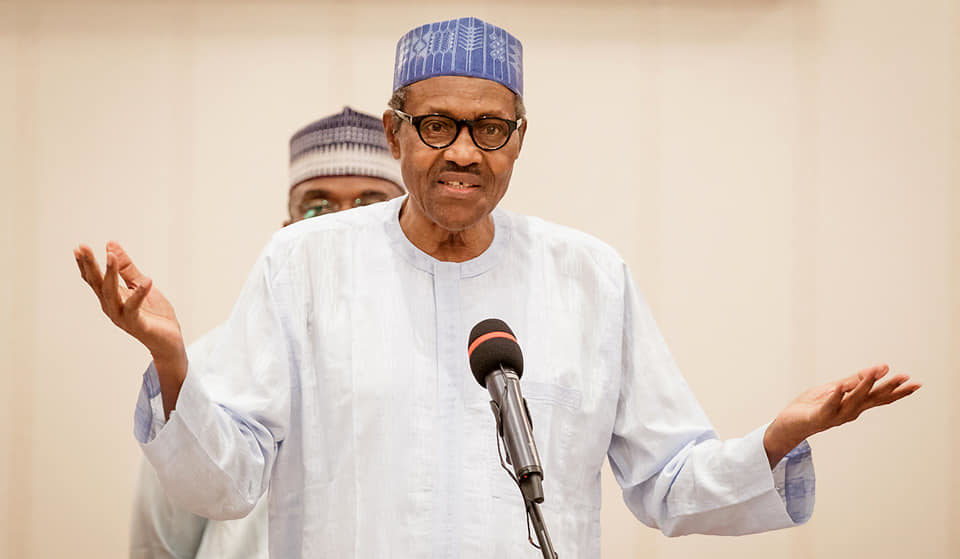 Chief Patrick Osagie Eholor has enumerated some points of areas President Muhammadu Buhari needs to work on in order to leave a lasting legacy when he leaves office.
Eholor said the president has failed woefully in his assignment to turn Nigeria around in these seven years, but still stood a chance to save his name by taking actions against corruption and other vices he is ignoring.
Eholor was speaking from Dubai, in the Middle East.
Below are some of the points he made in his argument:
Debt recovery
It's time for President Muhammadu Buhari to stop borrowing money. Dubai can borrow money but Dubai is beautiful. America can borrow money, but America is beautiful.
The President told us that if we don't kill corruption, corruption will kill us.
It's time we ask the President, what money have you recovered from your friends and family? Why have we not been able to use that money in order to fix our infrastructure instead of borrowing. We are currently servicing our debts at about 70% GDP, I don't think that makes sense.
I can give you a few tips on how to make things work, we can recruit more police officers and flush out the bad ones, the police reform is a must.
For any country to succeed and be investor friendly, you must make sure that the investor is secure. They must be able to come to our country without fear of being kidnapped or killed.
There is need to strengthen our borders by getting more educated immigration officers and flushing out bad ones, we need to retrain them, all they know is money, and they sell our passports to foreigners . We also need to strengthen the military apparatus of the country.
We must retrain our customs officers because all they believe is that everything they recover belongs to them.
You must strengthen our sovereignty by really going after Boko Haram and declaring them a terrorist organisation.
You also need to tell us who have been apprehended among those looting our economy, tell us what happened to the money recovered in Ikoyi.

With all these money, we don't need to borrow money any more.
Today we are losing billions due to bunkering, and you know these people. They are not aliens, they are not foreigners, they are Nigerians. Somebody knows them, and is aiding and abetting them. Mr president, we have to remember you for something. I remember when you were a military head of state, how you used a retroactive law to sentence one drug dealer, Batahome to death. If you have to use something similar to sentence these looters and recover our money, please do. So that we can still have a country called Nigeria when your tenure is over.
Corruption has taken the shape of Boko Haram, banditry, agitations in southern Nigeria, ritual killings and is devastating the country, but if God has not been with us, it would have been over for the country long ago.
This same President was tough on corruption during his tenure with Tunde Idiagbon, but we have seen now that it was Idiagbon who was the man behind the mirror. We were recovering looted funds and reforming the country then, why can't Buhari do the same now? This shows that he wasn't really the one in charge then, and unfortunately, we couldn't get Osinbajo to play the role of Idiagbon now.
Moving forward, we are going to find a way to ensure that Mr president does not borrow from China anymore. I am going to talk to my lawyer so we find a way and stop him, so that the future of my unborn children is  not mortgaged to the Chinese.
Cost of governance
The President can reduce the cost of governance by reducing the salaries of some of these unscrupulous bandit politicians.
If you borrow money to pay salaries in excess and the lawmakers don't achieve anything by making laws to move the country forward, what's the use of them over there earning jumbo salaries? You have borrowed a lot of money, and given amnesty to bank directors, politicians, governors, even 419 people who stole our money. You have. So why don't you publish the names of those of them you reached deals with, and how much was recovered, and what was agreed upon between the EFCC and these crooks?
Every money that we have are in the hands of individuals, it ought not to be so. Nigeria is the only country that does not have institutions, men are their institutions. So we must flush out these men who have taken our patrimony for themselves alone.
Attack of South East citizens during PVC exercise
I want to sympathise with my brothers and sisters in the South East who were attacked during the collection of their PVC cards and killing of an INEC official.
What I don't know is why the Biafra freedom fighters are humiliating and fighting the very poor instead of those looting the economy. I also want to call out the governor of that state to make sure that the security is tight, to ensure that there is peace in the coming elections. If the Igbos are clamouring to get the Presidency zoned to them, why would they be the ones destroying the PVC card, it doesn't make sense. That is what you are going to use and elect the next president. The Governor must strengthen the security, and get these people apprehended and punished according to law.
Pardon of Dariye and Nyame who stole 2.7 billion
Buhari is a serious joker. These are two govenors who stole their states blind. Buhari not only freed them, he has ended up endangering the lives of the judges and prosecutors who found the courage to jail these common criminals. The Ikoyi loot and other monies recovered, Buhari promised to release their names yet he is going about borrowing money. If he is serious against corruption, why can't we keep these people in jail for a long time, or even enact a law commuting them to death sentence?
Because these people destroyed the fabrics of democracy, killed a lot of people because of bad roads, because there is no medicine in the hospitals, the killed a lot of people knowingly or unknowingly and by granting them pardon, the president is supporting corruption.