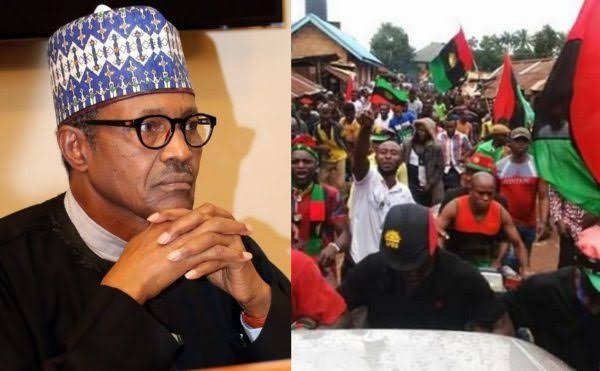 By PAMELA EBOH, Awka and CHARLES IWUOHA, Enugu
The Indigenous People of Biafra (IPOB) has declared Thursday, September 9, 2021 as a total lockdown/ghost town in the entire South East region.
The declaration made during a Monday evening broadcast by IPOB-HDOS, Mazi Chika Edoziem, came on the heels of a scheduled visit by President Muhammadu Buhari to Imo and Ebonyi states.
The President is expected to commission projects, including armoured vehicles newly purchased by the Imo State Government.
IPOB however declared that President Buhari is not welcome in any part of South-East states of Imo, Abia, Enugu, Anambra and Ebonyi.
According to the group, "Nigeria's president is not welcome in Imo State, Biafra Land on Thursday, September 9, 2021."
IPOB warned governors of the Southeast as well as traditional rulers, youth leaders, Presidents-General in the zone and party members to stay away from the event, threatening that anyone that flouts the order would pay with his of her life.
Edoziem said: "We want total shut down of Biafra land on Thursday. Is the President coming to commission the many youths of Biafra extraction that has been murdered or those still held in prisons?
"We want a total ghost so we can register the fact that we are not happy. The fish that ate my fish has upset me. We want to prove to President Buhari that Biafra land belongs to us and not the South-East governors.
"He is coming to commission armoured vehicles and also commission the school in Ebonyi, the Islamic University.
"All those women that wear uniform to go and dance anytime there is a sound of a political gong, the youths that come out adorning T-shirts, other organisations should advice yourselves.
"We will not fold our hands this time around and watch you dance on the graves of our Biafran sons.
"Our eyes are open and watching all of you. No matter where you run to, we will not hesitate to come after you and knock you down. Even if it's a hole, we will pursue you to that hole until we knock you down."