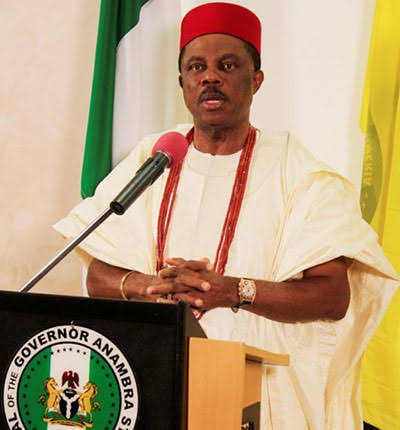 ~Commissions International Convention Centre Awka
The Governor of Anambra State – Chief Willie Obiano on Wednesday honoured the former National Chairman of APGA – Senator Dr. Victor Umeh  (Ohamadike Ndigbo), the National Chairman of APGA – Ozonkpu Victor Oye, former Commonwealth Secretary-General – Chief Emeka Anyaoku, the former Governor of Anambra State – Mr. Peter Obi, the Obi of Onitsha – Igwe Alfred Achebe and many distinguished Ndị Anambra for their outstanding performance and achievements nationally and in the prosperity of Anambra State.
The colourful ceremony which took place at the newly constructed 10,000 capacity International Convention Centre (ICC) Awka, featured the official inauguration of the Centre, valedictory event for the outgoing governor – Chief Willie Obiano and unveiling of a book written by an investment banker, Ike Chioke with the title – Akpokuedike, Duty Call in Anambra.
Senator Umeh, who was conferred with the highest category award of DISTINGUISHED ANAMBRA STATE GRAND COMMANDER MEDAL, thanked Governor Willie Obiano for finding him worthy.
Speaking to journalists shortly after the event, Senator Umeh said: "Governor Obiano has finished in flying colours. He has delivered an outstanding results by giving Anambra an International Airport and a magnificent International Convention Center, among all other numerous things he did.
"We give God all the glory that Obiano has made it worthwhile his coming here to be Governor of Anambra State. He has written his name clearly, boldly in gold. We wish him well in his future endeavors. APGA and Ndị Anambra are very proud of him. He didn't let us down.
"Last year he called us together and told us that he wants Soludo to succeed him. We helped him deliver Professor Charles Chukwuma Soludo to become Governor-Elect. He has finished his work. What is left for him is the crown of glory for someone who has done well and may God be with him as he goes to his other life after being Governor."
Senator Victor Umeh thanked Ndi-Anambra for giving Chief Willie Obiano the opportunity to serve the state.