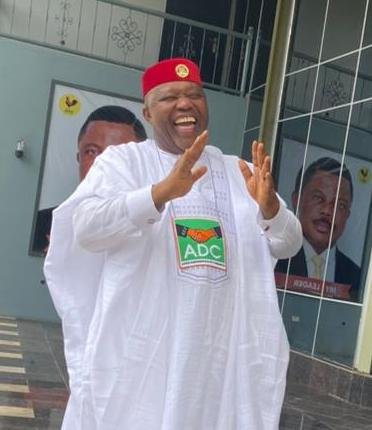 By Dr.Harris Chuma-Odili, FCMsp
The ADC gubernatorial candidate Akachukwu Sullivan Nwankpo as a seasoned administrator, philosopher, legal luminary, and technocrat has used his skills and positions in different capacities for the growth of Anambra State and Nigeria.
Nwankpo raised the bar in corporate governance and administration while serving as Senior Special Assistant on Technical Matters to President Goodluck Jonathan, with great records of laudable achievements during his time as the Executive Secretary, the Subsidy Reinvestment Program, Sure-P.
Akachukwu Nwankpo has sacrificed the greater part of his life in service of Nigeria. He served passionately as a Presidential aide to former President Jonathan and his track records earned him the Personal Envoy to the most loved Nigerian President.
Nwankpo has continued on the progressive path set by his Boss before he moved to Anambra to contribute meaningfully in developing the state. His contributions to the success of the All Progressives Grand Alliance APGA are commendable. Though he was treated disdainfully by men of great disrepute.
Courageously, he walked away, and with a resounding ovation, was welcomed by the most peaceful and respected political party in Nigeria, the African Democratic Congress(ADC). Where providence will announce him as the next governor of Anambra state.
Akachukwu was Anambra State pride in the administration of President Goodluck Jonathan, his laudable antecedents, goodwill, and unbroken records of grassroot political networking will garner the desired results in the forthcoming governorship election. Underestimate him to your chagrin. Go and exchange a warmth handshake with Nwankpo, and know the truth about November 6.
Kwem n'aka Gwam eziokwu
Ekenem.