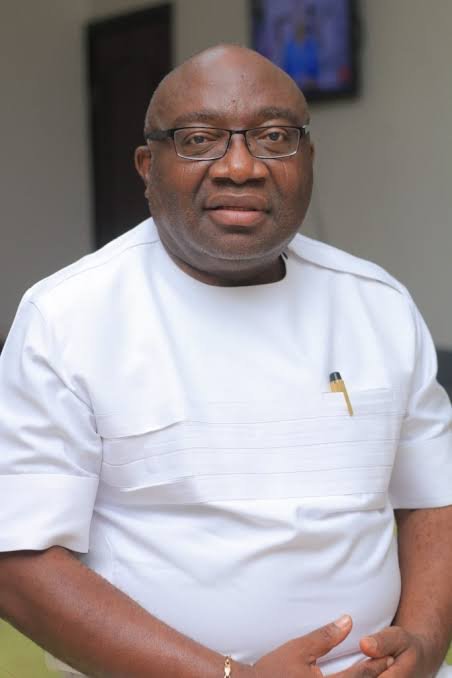 The Chancellor of Gregory University Uturu, Professor Gregory Ibe has stated that the act of governance is a continous process, characterised by seamless transfer of projects and policies from one regime to another.
The professor of entrepreneurial science who recently indicated his interest to run for the office of Abia Governor in 2023, made the assertion on Monday during a parley with newsmen.
Prof Ibe who spoke from New York, where he is currently visiting, commended Governor Okezie Ikpeazu of Abia state for building on the foundations laid by his predecessors, thereby working towards the realization of the Abia masterplan.
According to Prof Ibe, "I want to specially commend our Governor, Dr Okezie Ikpeazu for his wisdom in building on the foundations laid by his predecessors in office, while working towards realizing the blueprint contained in the Abia masterplan. This is the policy that has now led to the construction of solid paved roads built with cement technology by Governor Ikpeazu, from the old foundation of coal tar roads as was done by his predecessors. By so doing, he has subsequently prepared a good ground for continuity by his successor."
Correspondents report that Prof. Ibe's view are in alignment with Governor Ikpeazu's comments in a recent interview published online and in national dailies, where he reportedly outlined his giant strides in office and subsequently highlighted the foundations he is laying for his successor to build upon, in line with the Abia masterplan.
Ibe, therefore made a case for adoption of the policy of phasal development as a way of encouraging the concept of building society incrementally , thereby ensuring that succeeding regimes sustain the projects and policies of past administrations. According to him, this will guarantee continuity while discouraging constant abandonment of projects.
"I will sustain and take to enviable heights Governor Ikpeazu's developmental strides in the state," Prof. Ibe said.
He added, " The foundations laid by Governor Ikpeazu constitute good building blocks for his successor to accelerate the pace of development, in furtherance of the masterplan designed by the founding fathers of our great state."
According to Prof. Ibe, " I am particularly impressed with the great work done by the Governor in the area of changing the narrative of our people towards locally produced goods and services. As a frontline entrepreneur, I will add impetus to the campaign for increased patronage of our home made enterprise as currently being championed by the Governor. Benefitting from his foresight, Aba will surely emerge as the commercial hub of the continent under my watch."
Elaborating further, Prof Ibe said he will deploy his experience as consultant to the UN and ECOWAS in adding value to Abia, in such critical areas as education, health, agriculture and infrastructure.
He said his policies will ensure adequate healthcare for the elderly, pregnant and lactating mothers, children and the less privileged.
"Our health policy will seek to ensure that everyone has access to quality healthcare. As a US trained HMO, I will innovate and think outside the box to formulate and drive customised sustainable medical schemes that will impact positively on the life expectancy of our people."
Concluding,he said," As a scholar in government Dr Ikpeazu has benefitted from his analytical scientific mind in advancing the state, deploying foundations laid by past leaders. I therefore have a strong base to stand upon in the task of raising the roof of development by bringing to the table my pedigree and vast experience in wealth creation, human resource development, emerging trends in the world of technology and reverse engineering."