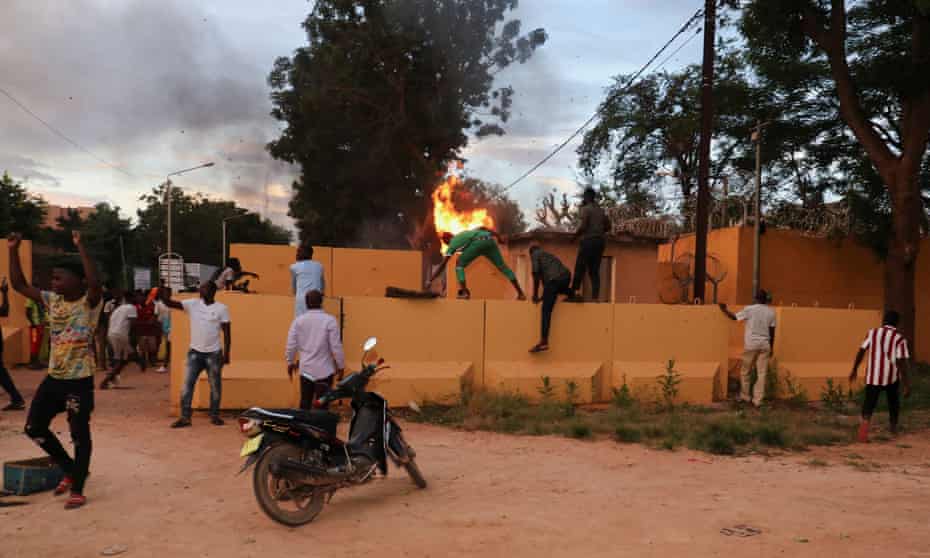 Angry protesters have attacked the French embassy in Burkina Faso's capital after supporters of the west African nation's new coup leader accused France of harbouring the ousted interim president, a charge French authorities vehemently denied.

Lt Col Paul-Henri Sandaogo Damiba was overthrown late on Friday less than nine months after he mounted a coup in Burkina Faso, which has been failing to effectively counter rising violence by Islamic extremists.

Comments by a junta spokesperson on Saturday set into motion an outburst of anger in Ouagadougou, the capital.

"Damiba has tried to retreat to the Kamboinsin French military base to prepare a counter-offensive in order to sow divide amongst our defense and security forces," said Lt Jean Baptiste Kabre, reading a statement on behalf of the new junta leadership.

Video on social media showed residents with lit torches outside the perimeter of the French embassy, and other images showed part of the compound ablaze.

In Burkina Faso's second-largest city, Bobo-Dioulasso, angry crowds also vandalised the French Institute.

Damiba's whereabouts remained unknown but France's foreign ministry issued a strongly worded statement. "We formally deny involvement in the events unfolding in Burkina Faso. The camp where the French forces are based has never hosted Paul-Henri Sandaogo Damiba, nor has our embassy," it said.

French foreign ministry spokesperson Anne-Claire Legendre later told France-24 on Saturday night that it was a "confusing situation" in Ouagadougou and she urged French citizens to stay at home.