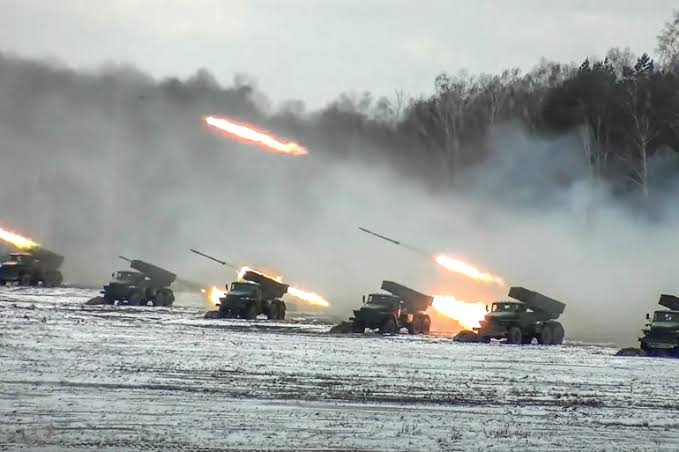 It has become a global news trending in all social media houses in the universe about the ongoing Russia Military incursion, invasion bombardment and almost annihilation of Ukrainian territories from the 21th February 2022 till date.

This surprising development and military upsurge against an independently recognized sovereign State is highly condemnable, abhorring and a calculative attempts to subjugate Ukrainians against their wills. Scores of lives and several casualties have been recorded with no responding intervention from the Powerful blocs to rescue the sieged country . It has been a sorry situation as reports had it that over 14,000 souls had been wasted in the course of this forceful attack.

Do we call it a flop in the playing of international politics or could it be termed a gang-up to subdue an innocent Country and take over her mineral resources? It takes President Putin and his cohorts to answer simply because this act of violence seems to be strange in this 21th century where liberality is billed to thrive.

As a lesson teacher to the consciousness of countries having fundamental cases of inability to stay and live together, Nigeria is without pretext asked to think, reconsider and search herself.

In the light of the foregoing, it calls for a sober reflection on the part of Nigeria leaders never to sacrifice the indissoluble and indivisible unity of this country on the altar of greed, ethnic politics or corruption.

It is a reflection of the fact that nothing is permanent except change and it is change that reforms man's mind and temperaments.

Without delay, it confirms the fact that we can possibly work out our unity where everyone lives in peace without undue ethnic sentiment or bigotry. On the other hand, it depicts the fact that no one could lay claims that it is not possible to see Nigeria's disintegrate in the face of unendurable marginalization and mindless killings in the land.

A time of sober reflection is here and it behoves all government stakeholders and well meaning Nigerians to strive for the propagation of peace as a seed or bond holding our indivisibility together.

Anything can cause crisis and Nigeria is advised to ensure she leaves no stone unturned in working to sustain national peace and security. By running an inclusive government, sowing the seed of equity and fairness in the distributions of political offices, balanced economy, feasible restructuring of our Security architectures, zero corruption tolerance etc would in no small measures sustain peace and unity in Nigeria.

Nigeria belongs to all of us and no ethnic bloc or entity has a monopoly of leadership at the centre.

Finally, harmonization of our electoral system where the will of the people stands the only apparatus by which political office holders could be popularly elected.

Enacting and operating a law that guarantees the fundamental human rights of the people, discontinuation of acrimonious politics, youths development , upholding of freedom of press and institutionalisation of judicial autonomy among others are good to redeem us from the ruins of volatility, insurgencies and economic frustrations.

In the words of renowned literary guru of blessed memory, Professor Chinua Achebe, "there is nothing wrong with Nigeria rather her problems are failures of leadership".

It is time to revisit our leadership structures and amend our ways ; it is time to face the realities and change the old narratives dragging us backward; it is time to pinch the tenth of truth and live the its principles; It is time to work collectively and make Nigeria a befitting paradise on earth. Long life Federal Republic of Nigeria. Together, we make it happen.


Chief Dr. Emeka Kalu
Director General,
Global Initiatives For Good Governance.