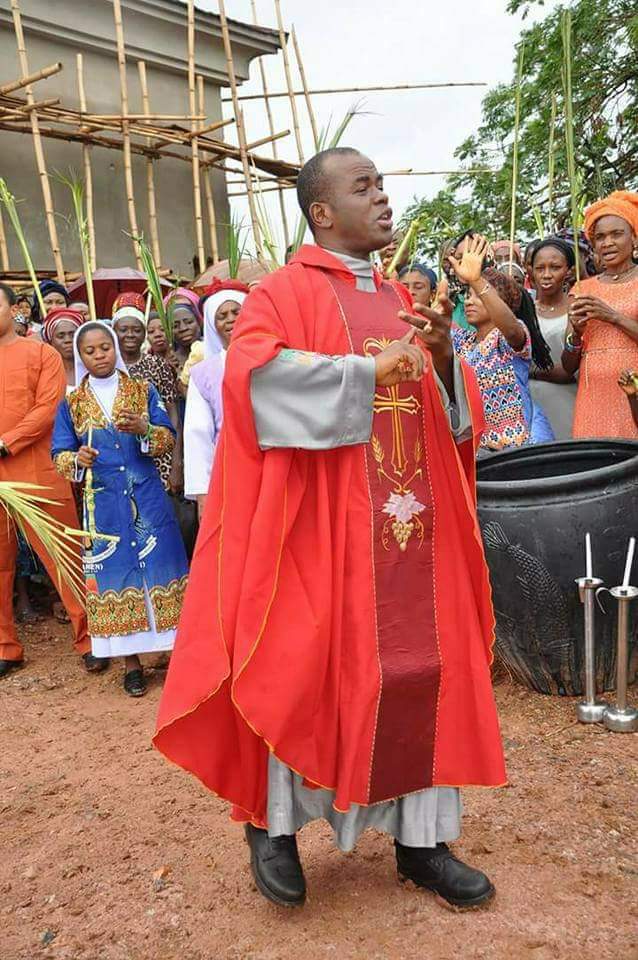 This story is told by a lady, Madam Felicia Nwachukwu, who revealed that she woke up one morning in the Psychiatric Hospital, where she has been receiving treatment, courtesy of the benevolence of Reverend Father Ejike Mbaka. According to her, before that day, she had never heard the name Mbaka. Nwachukwu is from Nkerefi, in Nkanu East Local Government Area of Enugu State. Like most mad people, she trekked to her healing, running away from home to Enugu where she was discovered and healed.
Jungle Journalist Media Limited interviewed her, and here are the details. This is a MUST READ!
The wandering mad lady
What I want to say is funny, yet it draws tears. In the year 2000, I left my people from Imeoha Nkerefi to Enugu. I was a mad woman, and was in chains. According to what they said later, my younger brother said he brought food for me while others had gone to the farm.
He said he thought I have become sane, and unlocked the chains. That was how I disappeared. They searched everywhere for me to no avail. Nobody knew how I got to Enugu, neither did I. I had never been to Enugu before, we were born in Awka, and taken back to the village.
Who the hell is 'Mbaka'? Never heard such a name!
One day, I woke up on a bed and realized I was not in my father's house. I looked around and was seeing strange faces everywhere. One was combing my hair, another dressing me, while the third brushed my teeth. I asked them, who are you people? They said they are looking after me. I replied, looking after me for what? What's wrong with me that you are looking after me?
One said, let's listen to her. They finished and told me their names. I stood up, and they said I should sit down. They said it's Father Mbaka said they should take care of me. I have never heard such a name in my life. I asked why. They said I am in a psychiatrist hospital. I told them that my parents have no money to care for me at the hospital, and they said Father will pay. I told them that I want to go home. They begged me to wait, many people began to gather to see, because they said since I came, I have been talking nonsense.
Everyone gathered. They didn't know my name so they used Father Mbaka's name sad my surname. Doctors came, very excited that I was sane. They then asked for my real name and I told them, Felicia Nwachukwu, of Nkerefi. They asked if I can get across to any off my people to ascertain if I am saying the truth. I told them everybody is in the village, that they will have to take me home to my people. And I asked them, who the hell is Father Mbaka?
So they called Father Mbaka, and he answered. That was the first time he spoke with me. When he was told my name, he said it's his Mother's name too. He spoke with me and prayed for me. Then I asked him what his name is. He said that he is Father Mbaka, and I asked if he was the man that owed my Father back in Awka. He laughed and said no, that he is a Catholic Reverend.
First taste of real enjoyment
He said he is in charge of Adoration Ministry, where they saw me wandering by Parklane Hospital. I said where is Parklane? As far as I was concerned, he was talking jargon. I just thanked him and cut the call. They began to bring me choice foods and breads and really good meal, and I was enjoying myself. Everyone in the hospital was enjoying too because the food was enough for everyone in the hospital. They were buying from eateries, and feeding the crazy and mad inmates, as well as our caregivers.
Finally, I was discharged. This was happening in 2000. Because I was healed, they also brought one other mad person who was around GTC then. They said if I who walked naked, then the one who used to wear clothes will also be well. But that person later died without recovering from madness. Mbaka looked after us really well.
That other person used to fight with me, and Rev Mbaka would settle us. But she died later. I began to recover, and finally, I was much better. I approached Mbaka and told him I had a child in the village who is with my mother and not doing too well.
After I got well, the mothers agreed that they would rent a place for me where I will be staying until I recovered fully. They said no one will be buying drugs for me. That I can only go home when I am fully recovered. I then told him I wanted to go and bring my child to stay with me. He said I should go and bring him. I went.
Mbaka, the caregiver from God
Since 2000 till date, Mbaka pays my rents, provides food for me, provides more than enough clothing for me. I have so much clothes, which he bought for me. He cares for my child. My child suffered hip replacement, according to the doctor and he said no problem.
He paid in N3 million for the surgery. It's the doctor that is delaying the surgery because he said it's not very easy to get the right hip bone for the replacement.
A King's daughter
When I arrived Nkerefi after my treatment, it was like Christmas. They treat me like a king's child. No one insults me. If you try it, you will be dealt with. Whenever I return, they gather around me to listen to me talking. They said that Father Mbaka's God is Supreme. How can someone that was mad for years be so sane now?
My father refused to come and see Mbaka till he died. He said he has never seen anything like that. He was afraid of going to thank Mbaka because he was scared he will be arrested to pay for my treatment. He never went till he died.
If you go my place in Imeoha Nkerefi today, ask about the woman father Mbaka treated I am the one. I have been healed, and popular at home.