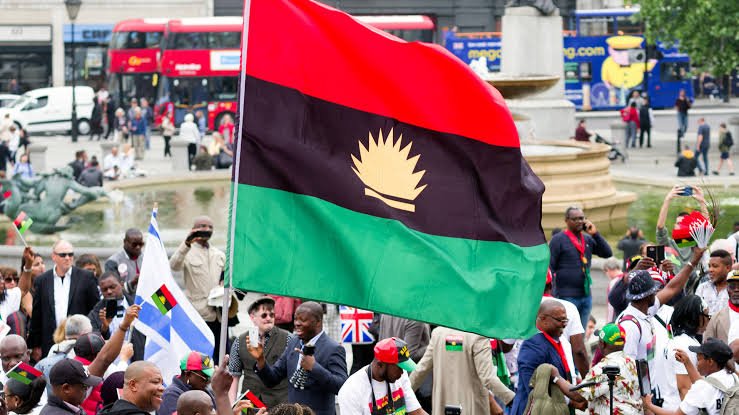 Thousands of members of the Indigenous People of Biafra (IPOB) are already in Abuja, ahead of Nnamdi Kanu's court appearance in Nigeria's capital city.
Videos circulating on the social media show several buses conveying members to Abuja earlier on Sunday, July 25th. The members were seen singing and jubikating, with Biafran flags, and all dressed in Biafran colours.
The numerous buses drove on a busy highway, while the members chanted pro-Biafran songs. In a similar development, the Nnamdi Azikiwe International Airport was reportedly jam-packed with passengers, apparently arriving the city to monitor the trial.
IPOB had said its members and other similar bodies would shut down the Federal Capital Territory, FCT, in solidarity with Kanu.
This followed a warning that IPOB members shouldn't be seen at the premises during the trial by the Attorney General of the Federation, AGF, Abubakar Malami.
But the organisation had responded swiftly, through its spokesman, Mr. Emma Powerful, who said members of the secessionist group have every right to be in court tomorrow.
He added that IPOB members would be peaceful and orderly when they converge on Abuja.
His words: "Yes, it is confirmed by our legal counsel, Ifeanyi Ejiofor, that the court will sit on 26th of July, 2021. The federal government of Nigeria has no right to stop IPOB or Biafrans from coming to Abuja to witness the court proceedings or to show solidarity to our leader, Mazi Nnamdi Kanu. Nigeria government cannot beat a child and force him or her not to cry. IPOB has every right to be in court on that day.
"Anybody who doesn't want to go to court is free to do so but Malami and Federal Government of Nigeria have no powers or rights to stop anybody from going to Abuja. One thing they forget is that it's not about Nnamdi Kanu, it's about Biafra. The issue of Biafra agitation has since gone beyond Nnamdi Kanu. It's now an unstoppable mass movement.
"The truth is that not just IPOB members but thousands of Biafrans and their sympathizers will flood Abuja on Monday to show solidarity to our leader, Nnamdi Kanu. He is only a freedom fighter and Nigeria cannot stop people from identifying with him.
"So, if they want to shoot or kill people they should prepare very well because they will have enough to kill or arrest. We are not afraid and can't be afraid at this point of our journey when our freedom is at the threshold. We can't abandon our leader. The only thing is that we shall be very civil, organized and peaceful but we can't be cowed. The world will see how they kill innocent citizens that day in Abuja.
"The kind of support to be expected from IPOB is moral support. The world will see that Nnamdi Kanu is not alone in the struggle for Biafra autonomy. Kanu is representing and fighting for the oppressed indigenous nationalities in Nigeria. Apart from Biafrans, our Oduduwa and Middle Belt brothers and sisters including the good and oppressed people of Southern Kaduna shall be on the ground to show solidarity to our leader. Abuja shall be locked down on Monday because lovers of freedom from across the country shall be on the ground to encourage the icon of freedom, Mazi Nnamdi Kanu.
"The threat by the federal government that people should not come to the court cannot work. Mallami speaks like one who does not know the law that guides human rights and the rule of law.
"We are not bothered about their trumped-up charges against Nnamdi Kanu and IPOB but the truth must surely come out. IPOB is out to expose Nigeria and its evil collaborators. Whatever charge they like, let them bring. Our leader is innocent of all their fabricated charges and we have a very formidable legal team to deal with that.
"The world is watching and will monitor the court proceedings and the entire events on Monday. IPOB and Biafrans on that day will be peaceful but nobody has the right to stop us from coming to Abuja. IPOB members are advised to restrain from behaving in an unruly manner or causing crisis in Abuja. We are not happy about the kidnap of our leader Mazi Nnamdi Kanu but we won't cause any problem in Abuja or anywhere", Powerful stated.