Peter and Paul Okoye formed the group Psquare. Their brother Jude Okoye is elder brother and manager.
P-Square began in St. Mulumba Secondary School, a small Catholic school in Jos, Nigeria. Peter and Paul joined their school music and drama club where they began singing, dancing, and mimicking songs by MC Hammer, Bobby Brown and Michael Jackson.
1997: They later formed a cappella quartet called "MMMPP" (M Clef a.k.a. Itemoh, Michael, Melvin, Peter and Paul). Drawing inspiration from their music idol Michael Jackson, they began break dancing, formed the group called "Smooth Criminals" in 1997.They dropped M Clef from the group "MMMPP" which later was changed to "MMPP". Their artistic talent and precise dance routine soon made them household names in the city of Jos, where they performed at school functions and other occasions.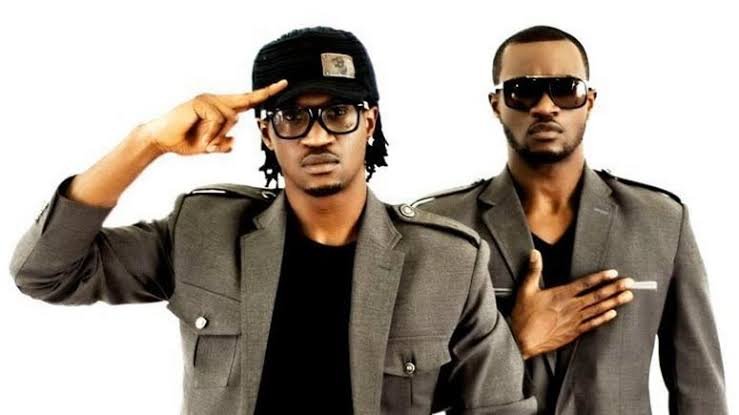 1999: Peter and Paul returned to music school to develop their skills on the keyboard, drums, bass and rhythm guitar. Their work includes the soundtracks for a number of films like Tobi, Mama Sunday, Moment of Bitterness and Evas River.
Later in 1999, they applied to the University of Abuja to study Business Administration. The Smooth Criminals disbanded when its members left to various other universities. Subsequently, Peter and Paul formed their own group, variously called "Double P", "P&P", and "Da Pees", until they eventually settled on "P Square". They were managed by Bayo Odusami aka Howie T, a seasoned concert promoter and the CEO of Adrot Nigeria Limited.
2001: "P-Square" won the "Grab Da Mic" competition, and hence Benson & Hedges sponsored their debut album, titled Last Nite, which was released under Timbuk2 music label. P-Square was also nominated as "Most Promising African Group" in the Kora Awards three months after the release of their debut album.
2003: Psquare Amen Award for "Best R&B Group".
2005: They released their second album, Get Squared under their own label, Square Records. This album was marketed nationwide by TJoe Enterprises, although they were still managed by Howie T of Adrot Nigeria Limited. The video for the second album held the #1 position on the MTV Base chart for four straight weeks.
The group has performed with artists like Ginuwine and Sean Paul, Akon. P Square are now located in Lagos.
2007: They released their best selling album so far, Game Over. It has sold 8 million copies worldwide.
2009:P-Square released their fourth studio album, Danger. The album features collaborations with 2 Face Idibia, J Martins and Frenzy. The first single called "Danger" is a hip hop song with cutting synths and a frog bass baseline similar to an Eminem song. The video affirms this with the presence of clowns and staggered movements in front of the camera reminiscent of comical videos by Eminem. They are also known for the close resemblance which the twins have to American R&B singer, Usher Raymond.
2010: P-Square was named the Artist of the Year at the Kora Awards in Ouagadougou, Burkina-Faso while they were in London for a concert at the Troxy, and they will receive a sum of $1 Million Dollars as the award winners, in Ebebiyin City.
2013: Peter Okoye of Psquare weds Lola Omotayo in November 2013
2014: P-Square released a single track featuring a top America Artist T.I. which P-Square titled EjeAjo produced and co-written by VTEK,EjeAjo official video featuring T.I.was also released 29 August 2014 on both TV stations, Radio Stations and Web blogs.
On 14 September 2014 P-Square released their 6th studio album titled Double Trouble.
2015: P-Square was given Range Rover SUVs from Globacom as Glo Ambassadors for their sponsorship of the #DanceWithPeter TV Radio entertainment programme. The programme brings dancers from around the world to showcase their talents for prizes.
2016: News of how Globacom decided not to renew its Ambassadorship deal with the duo, albeit renewing the contract with other Ambassadors hit the news. This was as a result of a fallout between the company's representatives and Peter, one half of the P-Square twins during the grand finale of the Dance with Peter talent hunt show.
Paul Okoye of P-Square, was involved in a paternity scandal with a lady named Elshamah Igbanoi. The lady claimed Paul impregnated her; Paul denied the pregnancy and went for a paternity test.
Peter and Lola Omotayo had their first child, Cameron in 2008. They eventually had their wedding in November 2013. On the other hand Paul got married to Anita, a lawyer whom he met in 2004 at the University of Abuja. Jude their elder brother is married to Ifeoma Uneokeke, a former model and beauty queen.
BREAK UP: The signs that Psquare will break up started shortly after their mother's death. When Peter decided to marry Lola officially, family members led by Jude disapproved of it. Rumour has it that their mother was not in support of Peter marrying a Yoruba woman who is much older than him and even their elder brother, Jude.
Their lawyer,Festus Keyamo (SAN) engaged the Psquare brothers to meetings to resolve the matter concerning their earnings but it almost ended in a free for all fight in the lawyer's chamber.The video has gone viral.